Liberty bounces back from opening loss to beat Bulldogs

By Rocky Nimmons
Publisher
rnimmons@thepccourier.com
LIBERTY — The Liberty Red Devils were ready to get the taste of a Week 0 defeat out of their mouths last week, and the Berea Bulldogs just happened to be the unlucky foe next on the schedule.
The Bulldogs went into Red Devil Stadium and found themselves in the crosshairs of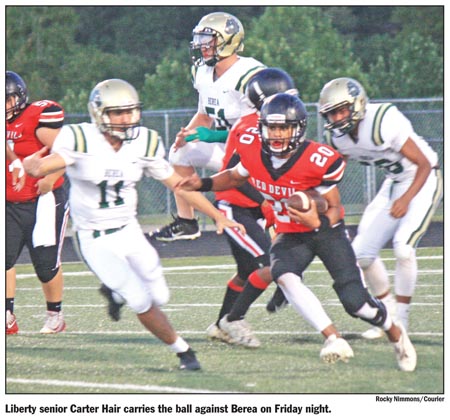 head coach Kyle Stewart's tough defense. The unit seemed to have an answer for anything Berea had to throw at them, and the Devils produced a 24-14 victory on a beautiful Friday night in Liberty.
The only points the Bulldog offense put on the board came with just 2:22 to play in the game.
"Defensively, I think we played a pretty good first half," Stewart said. "Obviously they scored that TD at the end, but other than that, the defense got a shutout for three and half quarters"
Offensively, the Devils sputtered in the first half, but as the game wore on, the unit got going and dominated the Bulldogs on the ground, mounting 323 yards compared to Berea's 156.
"We just had to settle down," Stewart added. "We just needed to stop worrying about all the things that are out of our control and focus on the things we do control. Once we did
You must be logged in to view this content.
Subscribe Today or Login