Liberty Lions poster contest winners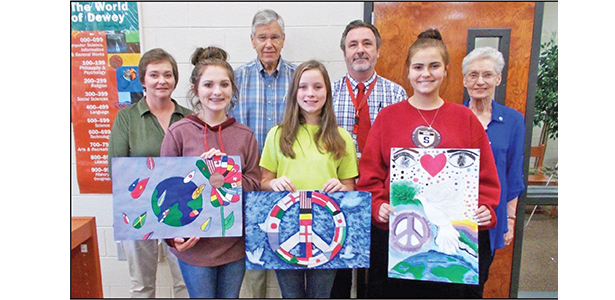 Each year, Lions clubs around the world sponsor the Lions International Peace Poster Contest in local schools and youth groups. The art contest encourages young people worldwide to express their visions of peace.
For more than 25 years, millions of children from nearly 100 countries have participated in the contest. The theme of the 2016-2017 Peace Poster Contest is "A Celebration of Peace."
Students ages 11-13 were eligible to participate, and 129 Liberty Middle School art students participated under the direction of art teacher Elaine Snell.
This year's Liberty Middle School Peace Poster Contest winners are, front row, from left: first-place winner Natalie Marcengill (8th grade), third-place winner Skyler Clayton (6th grade) and second-place winner Hannah Kelley (8th grade).
Back row: Snell, Liberty Lions Peace Poster Contest chairman Oscar Thorsland, LMS principal Dr. Tim Mullis and Liberty Lions Club president Jean Thomas.