Liberty sees improvement in year two under Sutherland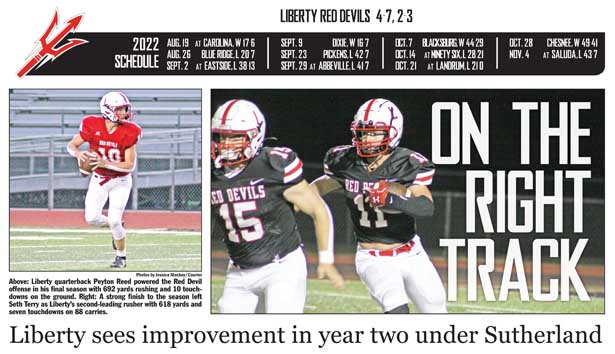 LIBERTY — After winning just two games in head coach Paul Sutherland's first season at the helm, the Liberty Red Devils took some big steps forward in their 2022 campaign, doubling their win total and making the playoffs for the first time under Sutherland.
The Red Devils' turnaround began in week 0 as they traveled to Greenville to take on the Carolina Trojans. Led by a hard-nosed rushing attack from running back J.J. Hernandez and quarterback Peyton Reed, the Red Devils were able to jump out to a 17-0 lead in the first half. From there, the Liberty defense continued to hold up its end of the bargain by holding the Trojans to just 88 yards of offense in a 17-6 win.
The following week, the Red Devils played at home for the first time on the season, hosting Blue Ridge. The Liberty defense continued to look
You must be logged in to view this content.
Subscribe Today or Login [pms-login