Lions begin title defense behind Pearman's arm and stout defense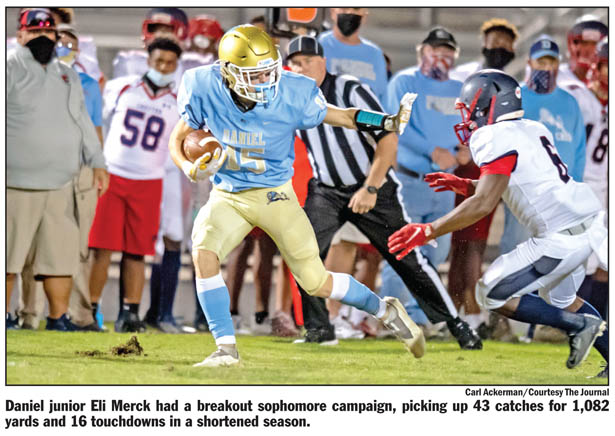 By Bru Nimmons
Staff Reporter
bnimmons@thepccourier.com
CENTRAL — While last year's run to the Class 3A state championship represented the apex of a five-year climb to the top of the proverbial mountain, the 2021 Daniel Lions will have to deal with
all the added pressures that come with championship glory.
Luckily, the Lions don't appear to be fazed by the added expectations, and just a year removed from its first state title since 1998, Daniel is not going to change the way that it approaches the game, according to sixth-year head coach Jeff Fruster.
"For us, it's about starting over," Fruster said. "What happened last year was great for the program and great for those seniors. They'll always be remembered, but every team has its own identity, and right now we're on a quest to figure out what our team identity is going to be this season. We want to build on the success we've built here and try to take it to the next step."
The expectation remains the same this year, as it has for every year of Fruster's tenure, and that sentiment is echoed by senior quarterback Trent Pearman.
"Always the same goal," Pearman said. "We have to start by winning the first one, then keep going game by game all the way to the end."
The Lions are also still dealing with the effects of COVID-19, as
You must be logged in to view this content.
Subscribe Today or Login