Lions one win away from perfect region slate after defeating BHP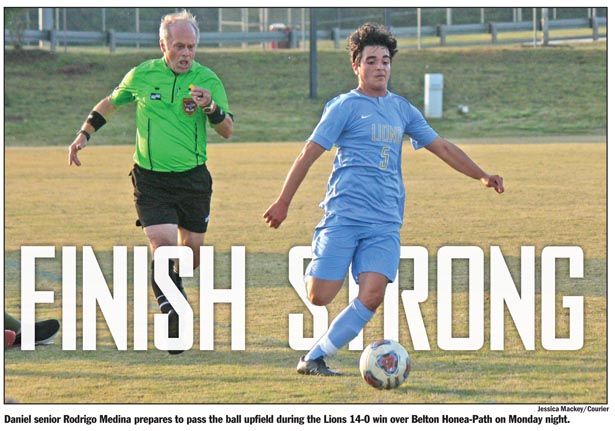 By Bru Nimmons
Staff Reporter
bnimmons@thepccourier.com
CENTRAL — The Daniel High School boys' soccer team has been among the best in the state this season, and the Lions showed no sign of slowing down during a 14-0 victory against Belton-Honea Path on senior night Monday.
"It was a great night for our seniors to get out and play," Daniel coach Phillip Boyer said. "I told them before the game that senior night is great, but if you don't play well, that's what you'll end up remembering."
Luckily for the Daniel seniors, it was a night to remember, as seven different seniors managed to score on the Bears, including a particularly impressive day from Xander Smiley, who had a hat trick 20 minutes into the game.
After a few missed opportunities in the early minutes, the floodgates opened for the Lions in the ninth minute on a goal by Luis Lezama. The Lions scored nine more goals in the next 28 minutes to build a 10-0 halftime lead.
In the second half, it was more of the same for Daniel even after some subbing, as the Lions added four more goals to pick up the 14-0 win.
For the Lions (13-4, 9-0 Western 3A), the big win was the latest in a line of destruction in region play, in which Daniel has outscored opponents 70-2.
However, the Lions still have one more test in a trip Thursday to second-place Wren to secure a region championship and a perfect region record.
Daniel handed Wren its worst loss of the season, an 8-0 thrashing, in the first contest between the teams, but Boyer knows that the 12-3 Hurricanes still present a challenge.
"I expect it to be a dog fight," Boyer said. "I've been telling the guys for the last couple of weeks that the first score doesn't matter, because this is going to be a different game. It's at Wren this time, and for whatever reason sometimes we don't play well there, so we're going to have to work harder because they have nothing to lose."
Daniel 14, BHP 0
WHS    0 0 — 0
DWD   10 4 — 14
Goals
First half
DWD — Lezama, 9'
DWD — Smiley, 13'
DWD — Smiley, 17'
DWD — Lezama, 19'
DWD — Smiley, 20'
DWD — Tapper, 21'
DWD — J. Lizardi, 28'
DWD — Medina, 31'
DWD — Turner, 34'
DWD — R. Lizardi, 37'
Second half
DWD — Purkerson, 54'
DWD — Kome, 59'
DWD — Daniel, 72'
DWD — Patti, 77'