Lions prepare to open region slate at Wren
By Rocky Nimmons
Publisher
rnimmons@thepccourier.com
CENTRAL — The Daniel Lions got an opportunity to lick their wounds with an off week last Friday following back-to-back tough losses against Greer and Westside.
The off week could not have come at a better time with region play getting underway this week as the Lions (3-2) travel to Wren to face the Hurricanes.
This contest has been a key in determining a region title in recent years, but the Hurricanes will enter Friday's game after a tough start, losing their last four games.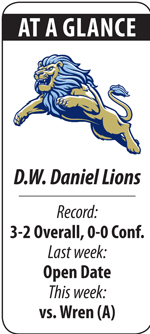 Wren kicked of the season with a 55-35 victory at James Island. The long trip to the coast didn't seem to slow the Hurricanes in the victory. Following the win, Wren has struggled defensively, allowing a combined 173 points in their last four games.
Losses to Powdersville (41-28), Easley (49-32), Woodmont (33-27) and Palmetto (40-14) have shown that Wren can score points, just not as many as the defense has allowed.
The Lions have used the week to get healed and prepare for the games that matter in getting into a good position for the upcoming playoffs.
Daniel coach Jeff Fruster said after the big loss to Westside that he was determined to get his team focused on the job at hand and put the losses in the rearview.
"I think what we are going to do in the off week is take some time to go back to playing Daniel football," he said. "This was just the first half of the season. It was the non-region schedule. I think we played it to the best of our abilities."
In their first road game in the new Region I-4A, the Lions will have to focus on their defense, which has proven to be susceptible to the big play all season.
Rex Brown/Courtesy The Journal
Daniel quarterback Ben Batson will be looking to lead the Lions to a bounce-back win at Wren on Friday night after the Lions dropped their last two games before an open date last week.
Daniel defensive coordinator Kurt Ellison knows he will have to have his defensive line follow their assignments and his linebackers and secondary tackle in space for the Lions to record a win on Friday.
The Daniel faithful are also encouraged to head to Wren to support the Lions.
"Anytime you can get the fans to come out on the road, it equals out the momentum that the other team's crowd can create," Fruster said. "I think that is huge. We can use all the help we can get.
"We have to be road warriors. It is easy to try to talk them into defending the home turf. Now we have to go on the road and with the other teams having the same mentality."
Kickoff is scheduled for 7:30 pm. Friday night at Wren.