Lions top Wren to stay unbeaten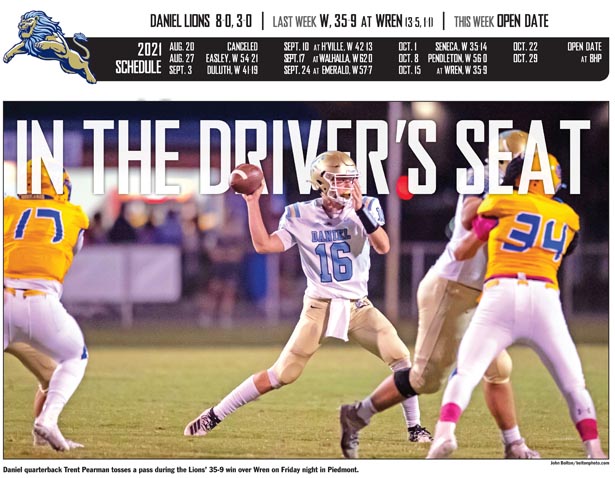 By Bru Nimmons
Staff Reporter
bnimmons@thepccourier.com
PIEDMONT — Coming off its 17th straight win the week before, the Daniel High School football team had plenty of confidence going into Friday's matchup at Wren.
However, the Hurricanes hit the Lions in the mouth right off the bat to take a 3-0 lead.
Daniel responded the only way it knew how, dominating all facets of the game and scoring 35 straight points in a 35-9 win to stay in control of their own destiny in the Western 3A race.
"Football's about responding," Daniel head coach Jeff Fruster said. "That's exactly what we charged those kids to do. We expected Wren to give us their best shot out of the gate, and that's what they did, but we also know you can't win a game in the first quarter."
After the early field goal by Wren, the top-ranked Lions (8-0, 3-0 Western 3A) still looked to be in trouble, going three-and-out to give the ball back to the Hurricanes.
With Wren (3-5, 1-1) driving, the Lions held their ground just outside of their own territory behind the play of Jahiem Lawson and Brodey Conn. Then, a Wren fake punt was snuffed out by the Daniel defense, leading to a 10-yard loss and turnover on downs.
Daniel found its groove three plays later, with quarterback Trent Pearman hitting Eli Merck on a 40-yard touchdown pass.
From there, a balanced offense led by Pearman and running back Chris Edge powered the Lions to a 21-3 halftime advantage.
"It's the same balance we would have had last year if we hadn't had lost Chris to injury," Fruster said.
It was Edge who stole the show in the second half, pounding Wren on the ground and finishing the game with 164 yards and three touchdowns.
"I just believe what my coaches tell me to do," Edge said. "They tell me to keep working hard, and they'll keep feeding me."
"Chris has really come on," Fruster added. "He's shown us how capable of a running back he is."
While Edge was setting the tone on offense alongside another strong performance from Pearman and his top targets, Merck and Jaylen Brown-Wallace, the Daniel defense held its ground, getting in Wren's face with constant pressure after some early hiccups.
"We had some messy plays, but we got it fixed on the sideline," Daniel linebacker Carson Chasteen said.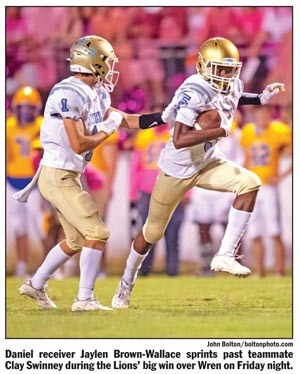 Chasteen also made arguably the biggest play of his Daniel career in the third quarter with Wren driving inside the Daniel 10-yard line. Facing a fourth-and-three from the 9-yard line, Wren turned to Trey Horne on an option run that Chasteen stuffed for a loss and turnover on downs.
"They came outside, and I saw the quarterback pull it," Chasteen said. "Before he knew it, I was in his face."
The Lions will have this Friday night off, hoping to heal up some key players before a possibly region-deciding matchup at Belton-Honea Path on Oct. 29.
"First, we're going to focus on getting healthy," Fruster said. "Then we're going to focus on executing and building depth."