Lions torch Pendleton on senior night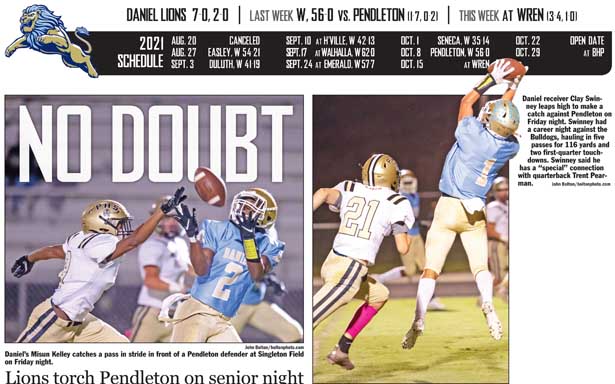 By Bru Nimmons
Staff Reporter
bnimmons@thepccourier.com

CENTRAL — The Daniel High School football team hosted its senior night against Pendleton on Friday night, and the senior class stood out from the start in a 56-0 win at Singleton Field.
After many slow starts this season, Daniel head coach Jeff Fruster was happy with how his team came out of the locker room.
"We knew Pendleton was going to present some challenges, but I thought we did a great job of starting the game off fast," Fruster said.
From the first quarter, it was apparent the Lions (7-0, 2-0 Western 3A) outmanned the Bulldogs (1-7, 0-2), with senior Clay Swinney hauling in a 47-yard touchdown from
You must be logged in to view this content.
Subscribe Today or Login