Lions use strong start to wallop Woodruff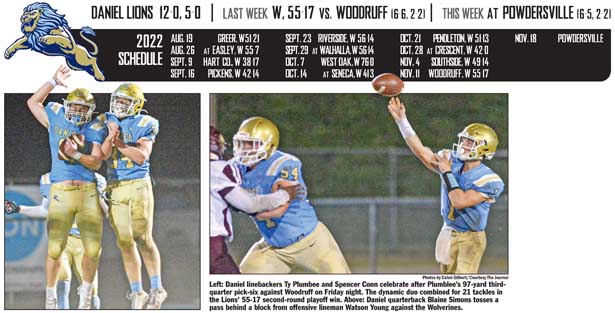 CENTRAL — After falling into old habits with a slow start in their playoff opener against Southside, Daniel head coach Jeff Fruster didn't want to see a repeat with the Lions hosting the Woodruff Wolverines in the second round on Friday night.
"Our start was a little less than what our expectation was last week, so I challenged our kids to get off the bus," Fruster said.
The Lions seemed to take the message to heart, as they whooped the Wolverines from wire to wire in a 55-17 win to advance to the third

round of the playoffs.
The biggest change from the previous week came in the play of quarterback Blaine Simons, who was able to attack
You must be logged in to view this content.
Subscribe Today or Login