Lions' woes continue in loss to Ninety Six
By Bru Nimmons
Staff Reporter
bnimmons@thepccourier.com
CENTRAL — The Daniel Lions entered Friday night's homecoming game against the Ninety Six Wildcats badly needing a win.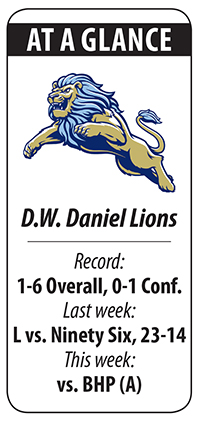 Sitting at 1-5 and not having won since the season opener Aug. 25 at Berkeley, the Lions were hoping to use the Wildcats to
work out all the kinks before their final three region games.
However, 123 yards of penalties and a costly late turnover led to a 23-14 Daniel loss.
"Penalties are obviously an issue," Daniel coach Jeff Fruster said following the loss. "We're trying to improve our technique out there, trying to stay sound, but we're still not getting the bulk of the calls. We're just going to have to keep working on it till we get it right"
Turnovers also continued to hamper the Lions, as they coughed up the ball four times, the last
You must be logged in to view this content.
Subscribe Today or Login