Local officials thank firefighters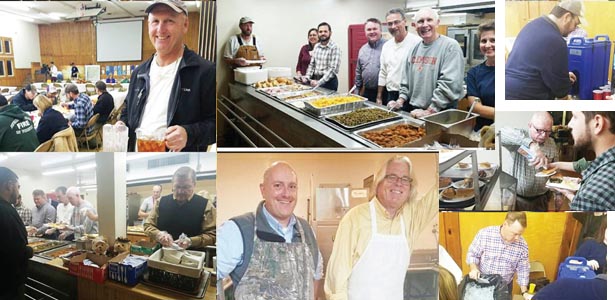 Around 300 firefighters have fought the wildfire in northern Pickens daily for weeks now. As of Thanksgiving, the costs exceeded $2.5 million. Teams from Oregon, Idaho, Utah and other states have fought. S.C. Forestry Commission personnel from 30 different counties have fought. A core of 15-20 volunteers have made three meals a day for the 300, volunteering from 4:30 a.m. until 10 p.m. each day. Rep. Neal Collins helped organize an effort of the #PickensUnited outreach group to serve Thanksgiving supper for the firefighters last Thursday. "Honestly, it was my favorite Thanksgiving ever," Collins said. "We owe these men and women so much. A good segment couldn't speak English.
All of them were away from their homes and families for the holiday. But it was our way, as representatives of our county, to say thank you." Collins said 16 elected Pickens County officials participated in the supper, including Sen. Mike Gambrell, Sen. Rex Rice, Rep. Davey Hiott, Rep. Gary Clary, Sheriff Rick Clark, county councilmen Roy Costner, Ensley Feemster, Chris Bowers and Wes Hendricks, school board members Betty Bagley, Henry Wilson, Phillip Bowers and Brian Swords, Liberty City Councilman Brian Peterson and Easley City Councilman Chris Mann.