Los Poblanos celebrates grand opening in Six Mile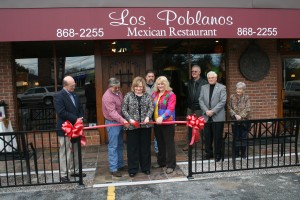 Los Poblanos held its ribbon cutting ceremony in Six Mile last Friday. Pictured are Elaine Porter (center) with her husband Dale and restaurant manager Cheryl Frazier, along with Sen. Larry Martin and Six Mile Mayor Roy Stoddard.
SIX MILE — Fans of Mexican food in the Six Mile area are in for a treat, as Los Poblanos, a new Mexican restaurant located at 136 S. Main Street, held its grand opening celebration on Feb. 8.
Los Poblanos owner Elaine Porter is looking forward to the opportunity to officially introduce her new restaurant to friends and neighbors in Six Mile and explains her desire to invest in the community.
"Los Poblanos is a locally owned restaurant, and we are focused on serving our community and creating jobs for local residents," said Porter.
The restaurant currently has 12 employees — a group including high school students and other locals that Porter says are like "my family once I get them."
Another of Porter's businesses, Durham's Convenience Store, located at the intersection of highways 183 and 133, also serves food, and while operating a more traditional restaurant like Los Poblanos is a little different, she understands that regardless of the setting, it's the food that matters.
"Of course, great food is our top priority, and from our freshly made salsa to our signature Los Poblanos specials, our desire is that our food is of the best quality," Porter said.
Mayor Roy Stoddard is thrilled by the new addition to the local business community and sees the opening of Los Poblanos, along with the recent addition of Atcheson Dental, as a sign of Six Mile's tremendous potential.
"I applaud Elaine Porter for her financial commitment and confidence in our community and look forward to a long and lasting relationship with Los Poblanos," said Stoddard.
The family-friendly restaurant is open Monday through Wednesday from 10:30 a.m. until 9 p.m. and Thursday through Saturday from 10:30 a.m. until 10 p.m.