Making ripples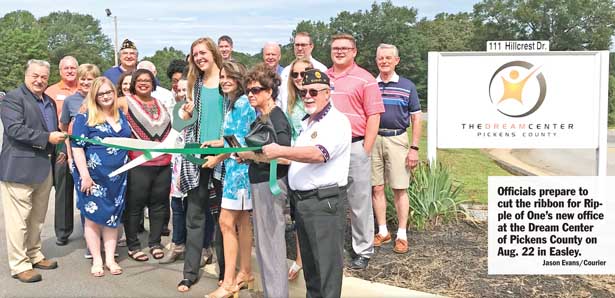 Ripple of One expands to Dream Center
By Jason Evans
Staff Reporter
jevans@thepccourier.com
EASLEY — Ripple of One is now serving clients in Pickens County.
The Seneca-based organization cut the ribbon on its new office at the Dream Center of Pickens County last week.
Emily "Ray" Raymer is Ripple of One's client care manager for Pickens County.
"We've been really looking forward to partnering with the Dream Center and just wanted to make sure we were ready at home and were waiting for the right time," Raymer said.
Ripple of One "empowers families to move beyond government assistance and into their full God-given potential," she said.
Ripple of One families "earn everything that they get in our program," Raymer said.
"We incentivize behavior change in order to shift a mindset," she said. "We have incentives for meeting budget, for exercising, for getting enrolled in
You must be logged in to view this content.
Subscribe Today or Login