Man arrested in 'gruesome' case of animal mistreatment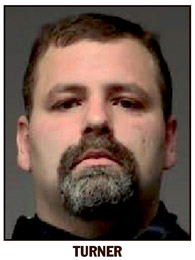 LIBERTY — A Liberty man was arrested last week after sheriff's deputies and animal control officers found a number of dead and decomposing animals at his home, according to Pickens County Sheriff's Office chief deputy Creed Hashe.
Ricky David Turner, 33, of 33 Blackbottom Road, was charged with ill treatment of animals, first offense, and failure to bury dead animals.
Hashe said the sheriff's office was notified last Wednesday that Pickens County Animal Control officers had discovered "a gruesome scene" at the home.
When deputies responded, they found a number of animal carcasses scattered around the backyard, as well as several dead and sick animals inside cages, Hashe said.
According to an incident report, a responding officer saw six dead rabbits, two dead pigs and a dead goat inside cages. There were also a number of dead chickens scattered around the yard, the deputy said.
Other animals found at the scene were in various degrees of health, Hashe said.
Animal control officers were dispatched to the home initially after a report of a pig running loose in a neighbor's yard, the incident report said, and discovered the dead animals as they were trying to find the pig.
As deputies and animal control officers looked over the scene, Turner arrived and began to answer questions, according to the report.
Turner allegedly told police some of the animals had been dead for more than a month and he "had not had time" to clean out the cages or bury the animals.
Turner also allegedly told police the dead chickens strewn around the yard were fed to his dogs.
He also reportedly told officers he buys animals at auction and some are not in good health and die.
"The standards within our community do not condone this type of inhumane treatment toward helpless animals and is strictly prohibited by the laws in our state," sheriff Rick Clark said. "I have a zero-tolerance position on this type of conduct and will not stop short of enforcing all statutes when appropriate and seeing that any violator is prosecuted to the fullest extent of the law."
Turner was arrested on Friday and released later in the same day on a $12,000 personal recognizance bond.