Man charged with attempted murder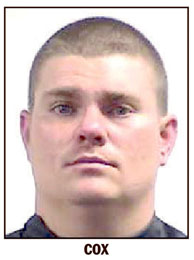 PICKENS — An Easley man is being held without bond at the Pickens County Detention Center after police allege he shot a man last month.
Christopher Michael Cox, 30, of 100 Parkway Drive, was arrested Jan. 7 and charged with attempted murder and possession of a deadly weapon during commission of a violent crime.
According to an arrest warrant, police believe Cox shot an Easley man on Dec. 28.
An incident report says the shooting victim told police he and his wife were at a home on Robert P. Jeanes Road a little after 4 a.m. on Dec. 12 when Cox asked to borrow a phone. The man said Cox ran out of the home with the phone and drove off in a dark-colored Dodge truck.
The man told police Cox later said he would buy the couple a new phone on Dec. 25, but Cox didn't contact him until Dec. 28, when he allegedly showed up at the victim's home around 4:45 a.m. to confront him about the phone.
The man said Cox told him the phone was outside, and as he followed Cox to his truck to receive it, he saw Cox pulling something out of his waist band.
The man said he tried to dive behind some trees in his yard, but Cox fired a shot at him, striking him in the left arm.
According to police, investigators collected shirts the shooting victim had been wearing at the time of the incident, as well as a bullet found inside the sleeve of one of the shirts.
The man was treated and released from the hospital for a non-life-threatening injury.