Man charged with sex assaults on young girl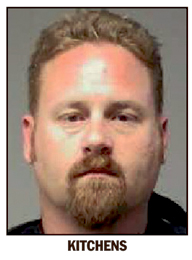 PICKENS — Pickens County Sheriff's Office deputies arrested an Easley man last week, alleging he forced a young girl to have sex with him multiple times over a period of a year.
Jeremy Keith Kitchens, 41, of 101 Greenpine Way, is charged with first-degree criminal sexual conduct with a minor under 11 years of age.
According to a news release from sheriff's office chief deputy Creed Hashe, an investigation began after the Department of Social Services provided information on April 17.
Hashe said the investigation revealed Kitchens had been engaged in sexual battery with a child that had occurred multiple times dating back to March 2014. According to an arrest warrant, the victim was between the ages of 9 and 10 at the time of the incidents.
"Measures were taken to ensure the safety of the victim to eliminate any further contact" with Kitchens during the investigation, Hashe said.
Kitchens was arrested Friday at a home in Pickens County, Hashe said.
Kitchens was also charged with possession with intent to distribute a controlled substance after police allegedly found him during his arrest to be in possession of dextroamphetamine, a schedule II controlled substance for which he had no prescription.
Kitchens is currently being held at the Pickens County Detention Center with no bond.