Man faces charge of sex with child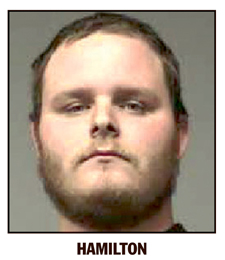 COUNTY — A former Pickens resident has been charged with engaging in sexual activity with a child.
According to a news release sent Tuesday afternoon by Pickens County Sheriff's Office chief deputy Creed Hashe, 22-year-old Donnie Wayne Hamilton of 201 A St. in Greenville is charged with first-degree criminal sexual conduct with a minor or attempt with a victim under 11 years of age.
Hashe said sheriff's deputies launched an investigation in January after receiving an allegation that unlawful sexual activity involving a minor had occurred at in Pickens.
The investigation allegedly determined the activity occurred on one occasion in August at a home where Hamilton was living at the time.
The victim in the case was an acquaintance of Hamilton, Hashe said. According to an arrest warrant, Hamilton allegedly admitted to police he became aroused by the victim climbing into his lap.
Evidence obtained during the investigation was presented to a Pickens County magistrate this week, and the judge subse found sufficient probable cause to issue an arrest warrant for Hamilton, Hashe said.
Hamilton was arrested Monday and was being held at the Pickens County Law Enforcement Center with no bond set at press time.