Man sentenced to 10 years in shooting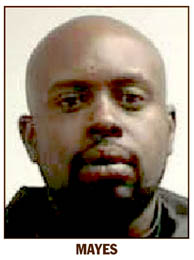 PICKENS — A Greenville man pleaded guilty recently to multiple charges in relation to a shooting last year in Pickens.
According to a news release from 13th Circuit solicitor Walt Wilkins, 36-year-old Christopher Radrico Mayes pleaded guilty on March 26 to attempted murder and first-degree assault and battery.
Wilkins said Mayes was sentence to 10 years in prison by judge Letitia Verdin.
Evidence presented at the plea hearing established that Mayes fired shots at a Jeep carrying four people on April 14, 2014, striking two of them.
Pickens Police Chief Rodney Gregory said officers were dispatched to the area of Henderson Street and Nealy Street within the city limits in reference to shots fired between two vehicles at about 5:20 p.m. on the day of the incident.
At about the same time, Pickens County Sheriff's Office deputies were dispatched to the Store and More gas station at the intersection of Shady Grove Road and S.C. Highway 183, just outside the city limits, in reference to shots fired.
Gregory said at the time that a 23-year-old man and 23-year-old woman each sustained gunshot wounds. The man was shot in his left hand, and the woman was shot in her left leg.
Pickens Police issued an arrest warrant for Mayes, who was identified as the shooter by witnesses.