Marines get warm welcome in Easley before getting time off
By Jason Evans
Staff Reporter
jevans@thepccourier.com
EASLEY — A group of Marines got a warm welcome in Easley before heading off for a well-deserved break.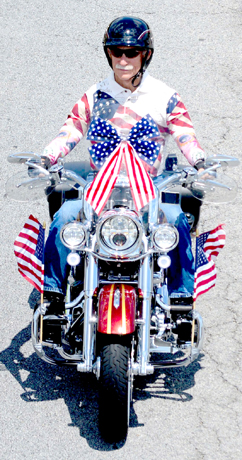 For the eighth year, the Keowee Key community is hosting a group of around 40 Marines for several days of fun in the sun.
On Monday afternoon, the Marines arrived at the J.B. "Red" Owens Recreation Complex in Easley to meet their Honoring Their Service escorts before heading out to Oconee County.
After the group's bus arrived, members of the Marine Corps League led the Marines in formation as they entered the complex.
The escort motorcade is made up of the Patriot Guard Riders — who led the escort — volunteer motorcyclists, police escorts and the Upstate Legends Jeep Club, who chauffeured the Marines to Keowee Key.
"It started very simply and grew from there," said Tony Alford, 2016 chairman of Honoring Their Service.
The community invites 30 active-duty Marines and 10-12 Marines from the S.C. Wounded Warrior Regiment, Alford said.
"We take them through Norris, Central, Clemson and Seneca on the escort," he said. "We just want to treat these guys and gals, show them we appreciate them."
Host families are assigned to particular Marines, Alford said.
"The Marine will stay with that host family for three and a half days," Alford said. "The whole idea is that they have three and a half days of absolute rest and relaxation."
Alford said the Marines are apprehensive at the start of the experience.
"But by the end of that three and a half days, we're family," he said.
John Bachman has hosted Marines at his home for six years.
"I rode in this event the first year and thought it was cool," Bachman said. "The next year, somebody asked if I would host, and I said, 'Yeah, I'd be honored to.' One year led to the next and here we are, No. 6."
On the first night, the Marines enjoy a barbecue and a chance to mingle with each other and get to know their hosts, Bachman said.
"A lot of the medically discharged Marines, they don't know the active-duty guys and even the active-duty guys, because they're in different areas, don't know each other," Bachman said. "This, and the ride on the bus, gives them a chance to fellowship."
"They will go non-stop for three and a half days," Bachman said of the events.
The events began on Tuesday morning.
"They have their choice," Bachman said. "They can play golf, they can play tennis, they can play pickleball, they can go hiking, they can go river kayaking, they can go lake kayaking, they can do archery, they can do tubing, water-skiing, they can do a lot of things. There's also a river rafting experience they can do as well."
Before they arrive, each Marine chooses what he or she wants to do. The hosts then receive that information.
"They have a lot of down time," Bachman said.
On Tuesday evening, the Marines enjoy a free evening, usually barbecuing with their hosts.
On Wednesday night, the community hosts a farewell dinner for the group, Bachman said.
On Thursday, their last day in town, the Marines get on their bus and are taken over to Clemson University.
"The Clemson athletic department does a fabulous job," Bachman said. "They get to rub the Rock and they run down the Hill. They take them up to the VIP boxes and serve them lunch. Then they put them on the bus and they can go to sleep on the way home. It is a full, full, full day."
Alford said most of the hosts keep in touch with their Marines over the years.
Bachman has.
"Some more than others," he said. "Some deploy and they can't be in touch. I got a call from somewhere in the Middle East last Father's Day from a Marine, wishing me a happy Father's Day. We get Christmas cards, things like that."
Alford agreed.
"Some are invited to weddings, have been invited to christenings of babies," he said. "It's almost a lifelong event that is created in three and a half days."
City of Easley staff take part in the special day as well.
"The City of Easley always loves to have the Marines out here," Lindsey Cunningham said. "We love hosting it right here. It brings out a good crowd."
Easley police chief Tim Tollison met the escort on I-85 and brought them down to the complex, Cunningham said. The Easley Fire Department provided water for everyone to help them beat the heat.
"The police lead them out onto Highway 123 and out toward Seneca, Clemson, all the way out there," she said.
As they ride out to Keowee Key, the Marines are often greeted by folks who have stationed themselves along the route.
"We always hope that we can get a lot of people out there," Alford said.
At the end of last year's formal dinner, one of the Wounded Warriors asked to speak to the group, Alford recalled.
"He said, 'I was wounded twice, came back to Bethesda and never felt like I was home,'" Alford said. "'I was just in an ether someplace. He said, 'You guys, I am now home.' There was not a dry eye in the place."