McDaniel honored with 'Caring' award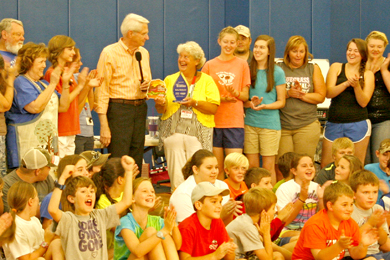 Betty McDaniel is presented with the "Caring for the Carolinas" Award by News Channel 7's Jack Roper.
PICKENS — On July 24, during the YAM CAMP week at the Pickens Recreation Facility, Betty McDaniel was chosen for the "Caring for the Carolinas" Award by News Channel 7's Jack Roper.
Roper presented McDaniel with a keepsake piece while campers, staff and community members watched. She is very deserving of this honor for the many volunteer hours she spends.
McDaniel founded and has served as director of the Young Appalachian Musicians Program for the past six years. The program is supported by a non-profit organization, Preserving Our Southern Appalachian Music (POSAM). She also serves on the board of Hagood Community Center. Within the center is the Pickens Senior Center, where McDaniel volunteers.
For the past 20 years she has also volunteered with the Guardian ad Litem Program. She has spent many hours over the years writing grants, clogging with children at Holly Springs Elementary School for 25 years, serving food to seniors in Pickens weekly, teaching Pickens-area children to swim during her summers for 55 years and volunteers her time on Friday nights at the Oolenoy Community Center during the traditional Appalachian instrument jam sessions.
McDaniel is also an adjunct professor in the graduate education program at Southern Wesleyan University. McDaniel holds her undergraduate degree from the University of North Carolina in Recreational Therapy, a masters degree from Clemson University in Administration and Supervision, an Education Specialist degree from the University of South Carolina in Media Science, and her PhD in Education from the University of South Carolina.
She is devoted to her family, including her husband, Ed McDaniel, her three daughters and her six grandchildren.
"Mrs. Betty" has a desire to see children gain success and confidence, while encouraging the development of future leadership in our community.