MCL honors members
By Ben Robinson
Staff Reporter
brobinson@thepccourier.com
PICKENS — At an award banquet held Aug. 28, the James Howe/Luke Cisson Detachment 1145 Marine Corps League honored its top members of the past year.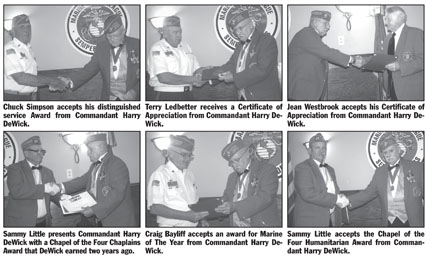 The league is named in honor of local Medal of Honor recipient James Howe and Luke Cisson, a young boy who wanted nothing more than to be a Marine like his grandfather, but was killed in an accident before he got the chance.
The league is very active in Pickens County-area community affairs and charitable events, including flag replacement ceremonies, flag retirement ceremonies, parades, fundraising and recruiting outings, military funerals for veterans, Pickens County Honor Flight, Marine Rose Program, building fund, Wounded Warrior program, Toys for Tots, Seniors Unlimited and the Young Marines of the Marine Corps League. In addition, special activities occasionally arise.
This year's award winners were:
Certificates of Appreciation: Jean Westbrook and Terry Ledbetter.
Distinguished Servant: Chuck Simpson.
Marine of The Year: Craig Bayliff.
Chapel of the Four Chaplains Humanitarian Award: Sammy Little.
Commandant Harry DeWick was presented a Chapel of the Four Chaplains Award that he actually earned two years ago but was lost in government paperwork. Little searched the files and located the award for DeWick.