Murder suspect captured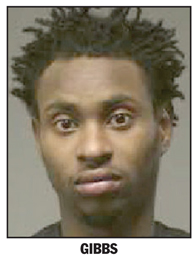 Gibbs was wanted in
Six Mile man's shooting death
CLEMSON — U.S. Marshals helped find the man Clemson police say shot and killed a Six Mile man Saturday.
Jaron Lamont Gibbs, 23, was charged with attempted murder and murder in the [cointent_lockedcontent] incident, which claimed the life of Robert Porter, 23, of Six Mile.
Clemson police chief Jimmy Dixon said Gibbs was captured by U.S. Marshals in Atlanta on Tuesday.
Gibbs was considered armed and dangerous, according to Dixon. Gibbs, whose address is listed on previous Pickens County Detention Center records as 20 Chalmers Road in Greenville, was known to frequent the Clemson, Greenville and Pendleton areas, Dixon said.
Dixon said police were called at around 12:30 p.m. Saturday about a person who had been shot in the head at the intersection of Issaqueena Trail and Cambridge Drive in Clemson.
Police believe the incident began as a result of the suspect — identified as Gibbs — owing money to Porter and another unidentified victim. After the victims called the suspect asking about getting the money they were owed, the two pulled up behind the suspect's vehicle at the intersection, police said.
Dixon said the suspect then got out of vehicle, walked to the driver's side of the victims' vehicle and pointed a pistol at the driver's head. Dixon said the driver shoved the suspect's hand as he fired one shot from the pistol.
The bullet grazed the driver's head and struck Porter — the vehicle's passenger — in the head.
According to Dixon, the suspect returned to his vehicle and left the scene.
Porter was taken to AnMed Health, where he died a little more than 24 hours later, according to Pickens County coroner Kandy Kelley.
The vehicle's driver was taken to Oconee Memorial Hospital.[/cointent_lockedcontent]