Murder trial starts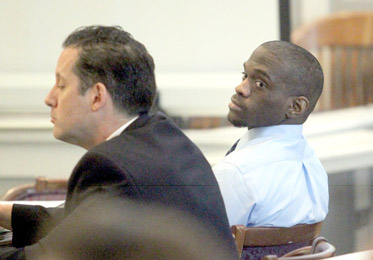 Photos courtesy Rex Brown/The Journal
Lester Davaria Mosley Jr., right, pictured with his attorney, Scott Robinson, is on trial this week in Pickens for the 2012 killing of Clemson University student Steven Gregory Grich.
Mosley accused of shooting
Clemson student in 2012
PICKENS — The trial for a man accused of being the triggerman in a Clemson University student's killing two years
ago began Monday in Pickens.
Co-defendants claim Lester Davaria Mosley Jr. fired the shot that killed Steven Gregory Grich during a home invasion at an apartment in Central in 2012.
Bernard Kadeem Ramsey of Central and brothers Jordan Charles Dalton and Jaron Bradley Dalton of Six Mile all said Mosley pulled the trigger on the shot that killed Grich.
Ramsey and the Dalton brothers all pleaded guilty in March to voluntary manslaughter, first-degree burglary and possession of a weapon.
In addition to murder, Mosley is charged with first-degree burglary, two counts of attempted armed robbery and possession of a weapon during a violent crime.
During the opening day of testimony in the case Monday, 13th Circuit solicitor Walt Wilkins told the courtroom the four men entered the unlocked back door of a Chimney Ridge apartment on Smoke Rise Drive in Central on Dec. 8, 2012, with "guns and faces covered."
Wilkins said there were five people in the apartment at the time of the invasion, including Grich.
"(Mosley) and the others went in there to rob them of money and marijuana," Wilkins said.
"It was a day that changed many lives. It changed lots of lives, especially Steve Grich and his family."
Mosley's defense attorney, Scott Robinson, told jurors they were "dictated and bound by presumption of innocence" toward his client.
"The state has to establish this case beyond a reasonable doubt," Robinson said. "I ask you to listen — listen to the people who come up here to testify. There are no assumptions in this case.
"Don't be fooled by the state's case. Lester Mosley is innocent in this matter. He is an innocent young man who is accused of something he didn't do."
Monday's testimony included a former Pickens County Sheriff's Office dispatch supervisor, Brian Jaynes, who described the 911 call he received around 8:30 p.m. on the night of the killing.
The person, Jaynes said, told him a weapon had been fired, striking his friend, and there was blood everywhere.
In addition, sheriff's office uniform patrol deputy Michael Torres took the stand and told jurors and judge Ned Miller of the scene he found when he and a South Carolina Highway Patrol trooper arrived at the apartment.
Torres said some people were outside the home when he arrived, and two others — including Grich — were inside.
"One man was cradling the head and shoulder of the other (Grich)," Torres said, adding Grich was lying in the middle of the living room area.
While inside the apartment, Torres said there was a heavy odor of marijuana coming from the back bedroom.
Torres said surveillance tapes showed a large black SUV — positively identified as Mosley's — leave the scene.
Following a nearly two-week search involving deputies from the Pickens, Anderson and Stephens County (Ga.) sheriff's offices, as well as U.S. Marshals, Mosley was arrested without incident at a motel in Toccoa, Ga.
Tuesday's testimony included accounts from former roommates of Grich. The trial is expected to last several days.
Greg Oliver of The Journal in Seneca contributed to this article.