Music on the Market concert series starts this Friday in downtown Easley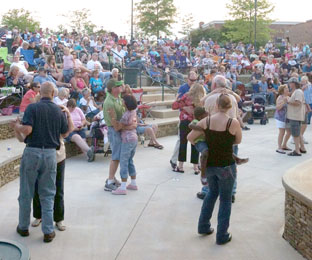 Last year's music series brought thousands to downtown Easley for a chance to listen to some great music and a little dancing. This years events will start this Friday in Easley.
EASLEY — The City of Easley recently announced the entertainment schedule for its 2014 Gilstrap Family Dealerships Music on the Market concert series.
"We are looking forward to another wonderful concert season here in downtown Easley," said Scott Buckhiester, VP of operations with DunBurks Premier Events, which is contracted by the City of Easley to manage its events.
"The lineup for this year is filled with some of our very favorites returning and some exciting bands that are well known in the area but are coming to Easley for the first time," Buckhiester said.
The concerts will take place in the Easley City Amphitheater each Friday night in May and June. The bands will start at 7 p.m. and play until 10 p.m. Concessions and entertainment for the kids will also be available.
The schedule is as follows:
May 2 — The Eric Scott Band
May 9 — The Sound Factory
May 16 — Southern Crescent
May 23 — Whitten City News
May 30 — Big Time
June 6 — Fortunate Sons
June 13 — Russ Chapman
                  and Friends
June 20 — Encore