'My Hometown hero'
Pickens resident Marlene Aiken credits her 13-year-old beagle Smidget with saving her life during a recent low blood sugar incident. Although the dog has been diagnosed with kidney failure, Aiken said his heroic deeds will help him live forever in her heart.
Woman credits 4-legged
friend with saving life
By Rocky Nimmons
Publisher
rnimmons@thepccourier.com
 PICKENS — Heroes, they say, come in all shapes and sizes.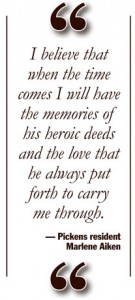 For Pickens resident Marlene Aiken, hers walks on four legs and always wants a rub on the head.
Her hero, a 13-year-old beagle, has been with Aiken for 11 years as her best friend and protector.
These days, Aiken has been going through the trauma of losing her best friend. Smidget, as she lovingly calls him, is sick. The beagle has been diagnosed with kidney failure, but despite his sickness, Smidget has never stopped giving.
At around 5:30 a.m. on March 18, Aiken's fiancé, Jimmy Davis, who was sleeping in a different room, went to check on Aiken, who had been sleeping with her sick pet.
"When I walked into the room, I could tell something was wrong," Davis said. "Smidget was growling and throwing a ruckus. I went over to Marlene and touched her, and she was soaking wet with sweat."
Marlene is a diabetic and had fallen into a diabetic coma from low blood sugar.
"I knew what was wrong," Davis said. "I couldn't get her to respond and while at the same time trying not to get bitten. Smidget could sense her situation and was in protection mode."
When the emergency medical personnel and the Pickens Fire Department arrived at the scene, Davis and Aiken's daughter, Nikki, were able to hold the little dog back so they could treat Aiken.
Davis said he believes you can't take your pet for granted, because to him, in this case, Smidget saved a life.
"I just want to say thank you God for Smidget and also thank him for not taking Marlene," he said. "She is truly the love of my life. I don't know what I'd do without her."
Aiken has made a complete recovery from the low blood sugar incident, but she is still dealing with the looming loss of her dearest friend.
"Smidget is my hometown hero," she said. "He saved my life by making Jimmy know something was wrong. I wear a pendant that says 'My best friend rescued me,' and little did I know it would come true."
Since the incident, Aiken has taken Smidget back to the veterinarian for tests, and his condition has improved.
"He will never be cured, but every minute I get to be with him is precious," she said. "I will love him forever and always."
The two are taking it day by day and enjoying the moments they have left, and Aiken is hoping Smidget will continue to improve and the time will get longer.
She has had the beagle for more than 11 years, and he has been therapeutic all the way, traveling countless miles with Aiken.
"We have been everywhere together — from Florida to Ohio and even across the country to California," she said.
For Aiken, the incident will help the legacy of her beloved friend carry on forever.
"I was having such a hard time with the news of Smidget's sickness, and I believe that when the time comes I will have the memories of his heroic deeds and the love that he always put forth to carry me through," she said.