NCCAA bringing top-level baseball, community service to Easley
By Jason Evans
Staff Reporter
jevans@thepccourier.com
EASLEY — The J.B. "Red" Owens Recreation Complex and Easley High School will be the venues for the National Christian College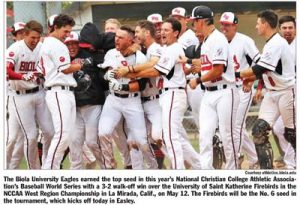 Athletic Association's Baseball World Series this week.
Tournament play kicks off today, May 23, and runs through Saturday.
This is the first year that the city of Easley has hosted the tournament, according to NCCAA executive director Dan Wood.
The tournament had previously been held at Prasco Park in Mason,
Ohio.
Easley caught the attention of the association when the city entered the bidding process.
"Easley was a very interesting potential bidder because of their long history with the Big League World Series and now the Senior League World Series," Wood said Friday. "The staff put in quite a concerted effort with their presentation."
The NCCAA announced Easley had been awarded the tournament in September.
"The whole process has gone very well," Wood said. "We've been very encouraged by all of the efforts that have been made over the last six to eight months.
Easley will host the NCCAA World Series this year and next year.
After that, it will go back out to bid.
"I think Easley's intent is to look at it long-term," Wood said. "We're not opposed to that kind of long-term relationship. We were at our previous host for 10 years."
Wood said his association has been impressed by the venues Easley
You must be logged in to view this content.
Subscribe Today or Login