Never give up, never surrender
It began as a simple, everyday thing. It began when we shipped a birthday gift to our daughter in July.
We used a shipping company that uses initials as a name. We'll say no more than that.
The gift was a pair of sterling silver earrings valued at $60, plus a $4.95 Hallmark birthday card. It was gift wrapped and placed into a $1.80 bubble envelope. The shipping cost was a little more than $9.
We sent it off and went merrily on our way. It was supposed to arrive in three days. But it did not.
When I went online to track the package, the information posted stated the package had not been delivered. It was never delivered. Finally, the online website informed me that the package was lost.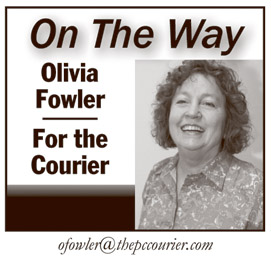 I was disappointed, but didn't worry because the package was insured with the company. For some obscure reason, I thought foolishly that the company policy saying they were responsible for the loss would be followed by the company itself. Alas, alack and woe is me. I drove eight miles to the local store and spoke to the manager. He verified that the package was indeed lost and told me I've have to send in a claim form, which would be sent to the local store and then given to me.
I stood next to him in the store and listened to him call the main office and request a claim form be sent. A week passed, and nothing happened. I went back after trying and failing to get a claim form from corporate. They told me the form had been sent to the local store. Agent One told me the local store would have to reimburse me for the loss, as corporate wasn't responsible. I drove to the store and asked the manager if this was true. He said it was not. He also said no claim form had been sent. He gave me a toll-free number to call for more information.
I went home and called the number and spoke to Agent Two, who said the company wasn't responsible and there was nothing he could do. I asked to speak to his supervisor, Agent Three, who said nothing could be done until they received the claim form. I said the claim form had not been sent. They said it had.
I went online and read a long statement on the company website that said the matter would take seven to 10 days to resolve. Really? I called again and told Agent Four no claim form had been sent. I said I didn't believe what he was telling me and said I wanted a check for $64.95 mailed to me. He said they weren't responsible. I said they lost the package and they were responsible. I asked if being trained to lie to customers was part of the general customer service training program. He said he was sorry for any inconvenience. I said it wasn't an inconvenience, it was an outrage, and asked to speak to his supervisor. His supervisor, Agent Five, came on the line and said there was nothing she could do to help me because she had no authority to do so. I asked who did have authority and asked who her supervisor was. She said her supervisor was on another line and would I like to hold. I said I'd hold for 45 seconds, after which I'd hang up and they could call me back. I waited 45 seconds and hung up.
Sometime later there was a message on my voicemail (I'd been up at Table Rock out of service range) giving me another number to call and telling me to give the tracking number which, of course I'd already given to Agents One, Two, Three, Four and Five.
I waited a few days to cool down before calling and then called the number. I spoke to Agent Six and was told they could do nothing until they received an authorization number from the local store. I said the local store had yet to receive anything from them, and Agent Six said a form had been sent in July. I said it had not, as I'd been to the store and heard the conversation the manager had with corporate.
I asked why they had to receive notification from the local store that the package had been lost when they were the ones who had notified me and the local store that the package had been lost. Agent Six said that was their policy. I said I didn't believe it.
I said I didn't lose the package, write the policy terms or do anything wrong. They lost the package, and it was their responsibility to pay for the loss.
I said if they refused to comply with their own policy, I would turn them in to the Better Business Bureau in Atlanta, where their corporate office is located, and also to the Consumer Protection Agency. It would be my pleasure to do so, as it had been 66 days since the package was lost.
Agent Six said she'd resend the form. I asked if she'd copy me the email with the form so I would know she'd really sent it. She said company policy wouldn't allow her to do that. I said that I had no reason to believe anything she said and without a copy I had only her word that it had been sent and I considered her word worthless. She said she was sending it as we spoke and to call the local store tomorrow.
The next morning I called the local store and was told by the manager that he'd actually received the requested form. I couldn't believe it. Of course, I haven't received a check yet, but do feel some progress was made. After all, three visits, five phone calls, four online research sessions and 71 days later, they may actually do what they promised. Time will tell.