New Works Fellowship growing in Dacusville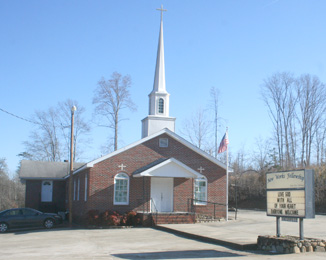 By Ben Robinson, Courier Staff
Cleve Holloway has led a very simple life. After receiving the calling to preach at a local church, Holloway says he noticed that several aspects of what his denomination taught were in conflict with what the Bible says.
"I brought it before the people in charge, and they basically said 'We will go with what we teach and ignore what's in the Bible,'" Holloway said. "So I simply resigned. I could not ask others to follow the word of God while my church was ignoring it."
So Holloway resigned his position with the church. But he still felt the burning desire to proclaim the word of God to the public.
Having grown up in the Dacusville community, Holloway said he was "probably familiar with every church in the area by playing softball against them."
"There were a great group of people to be around," he said.
Holloway dated then married Mickey Haile, whose mother lived just two houses away from the Church of God of Prophecy on Hunts Bridge Road. That church eventually ceased to exist when several members began attending the Dacusville Church of God, which eventually became known as New Life Worship Center in its newly built facility on Thomas Mill Road in Dascusville.
So the old building that once housed the Church of God of Prophecy  was vacated.
Holloway was familiar with the building from his years of courting Mickey.
"It basically turned into 'If you would drive over there to see Mickey, why would you not use this opportunity to share God's Word,'" Holloway said.
So he opened New Works Fellowship in the building.
"We are not affiliated with any other church, but don't we all serve the same God?" Holloway said. "We may have different methods or customs, but we're all praising the same God. We support the other churches in this area and work with many of the same families. What is important is that people have the opportunity to worship Jesus."
The church is remarkably open.
"You are a visitor one time, and then you are family," Holloway said.
Holloway brings a rather simple message to his small congregation. He encourages people to listen for instruction from God.
"God does not accept 'no' when He asks you to do something," Holloway said. "If God calls you, He's going to keep working on you and wait until He can get what He wants."
Holloway hopes his church can continue to grow. He plans to support other churches in the area as they deal with the many tragedies that have recently hit the Dacusville area.
"People are hurting, and we have the answer to their problems," Holloway said. "To not share that with them would be selfish and very un-Christlike."