No clowning around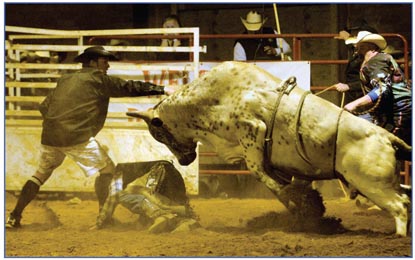 Local bull fighter Clay Constance will be in action when the Double B Arena Championship Rodeo kicks off this weekend.
Kerry Gilstrap/Courier
By Rocky Nimmons
Publisher
rnimmons@thepccourier.com
DACUSVILLE — Are you ready for some heart-stopping rodeo action? If the answer is yes, then this weekend is the perfect time to get out and see the Double B Arena Championship Rodeo in Dacusville.
The event, scheduled for Friday and Saturday, will feature some great local talent and present seven championship rodeo events, including bull riding.
As dangerous as that sounds, what may be even be more precarious at the event will be the job that is done by the people who keep the riders safe after the bull throws them to the arena floor. They are known as the bull fighters.
These bull fighters are not like the typical Spanish matadors, but more like the traditional rodeo clowns of old — just without the jokes, according to Pickens-area bull fighter Clay Constance.
Constance, a 2003 graduate of Pickens High School, is proud of the work he and others like him do to save the cowboys from further harm once the bull ride is over.
Constance is not like most men. Most would run the other direction if a 2,000-pound snorting mass of muscle with long, sharp horns came charging toward them at full speed on four hooves.
It is just another day at the office for Constance and his buddy and mentor, Dusty Smith. Constance gives Smith the credit for getting him into the business of battling the behemoths.
According to the former Blue Flame, fighting the beasts is much like his gridiron days on Bruce Field under the tutelage of then-Pickens High football coach Andy Tweito.
"Dusty told me since I was pretty good at playing football that bull fighting was not much different," Constance said. "(He told me) 'You are going to go after them just like you would a running back that is breaking through the middle. You will take a beating, but you would be good at bouncing off of him.'
"He said it was the same. 'You will take a beating to get the bull away from a fallen cowboy, but it is a thrill, and you should try it.' So I did."
Now it's in his blood, Constance said.
"The way I played football was no different than how I look at that bull," he said. "I see the bull just like a running back — neither one of them, the ball player nor the bull, is going to whip me. If he beats me this time, he dang sure ain't gonna get me twice."
Constance, who has been fighting the creatures for a little more than a year, said he does not do it for the money, he does it for the thrill and the ability to save the cowboys who are in harm's way and helpless from being hooked by the horns of the beast they were just riding when they hit the dirt.
"It is not always the money part of it or anything about it," he said. "If I take a beating for somebody and save them and they come back and say 'thank you,' that is more payment for me than anything. That means more to me than anything.
"It eats me up more to see somebody get hooked than anything. It breaks my heart to see someone taking a hooking from a bull when I could have taken it in their place."
But Constance has not always fought; he was once a rider, like the people he now protects. He met his wife while riding and says she always knew he was a daredevil. The couple now has a 4-year-old son who is ready to help dad if he ever gets in a pinch.
"It really don't bother my wife to watch me — the funnier thing is to watch my son," Constance said. " He is 4 years old, and he once came up to Ernie Treadway, the promoter, and said to him 'if my daddy needs me to fight tonight, I will be in there with him'. He has always supported and loved it."
Constance knows his gifts are God-given.
"The thing that I always think about when I get in there is what is written in the Bible," he said. "It says, 'Greater is the man that lays down his life for his friend,' and I love knowing that I can help save people from getting hurt. God gave me that ability."
Constance has never been seriously injured but understands that any given night the worst is possible in what he does.
"If wasn't for the Lord I wouldn't be doing what I am doing. The Bible says if you don't use your talents in his glory, he will take them from you," he said.
But the small stage is just the start for Constance and his partner and mentor Smith, as the duo have dreams of competing all over the United States.
"Dusty goes to the IFR Stock Show and Sale every year," Constance said. "The sale is for the international finals for the International Pro Rodeo Association, and they have a cowboy protection finals out there, and they have cowboys from all over the world. We are going try to go to it this year and hopefully win it.
"At the shows, you will have stock traders come from all over the United States. As they are bucking the bulls, they are having their auction. A bull does not leave the arena until it is sold, and the whole time out there you have to play with him or fight him. That is how you are scored. Everybody is going to be watching you, and you could get a job from how good you perform. You could get called out to California for a few weeks or Texas or anywhere."
Constance said he is going to be doing this as long as he can, adding, "I don't see myself stopping anytime soon."
Constance will be saving riders at the Double B Championship Rodeo this Friday and Saturday night and wants all of his friends and former classmates to come out and see the excitement.
"I want all my friends from school to come out and watch me. They need to come see it, because a lot of them told me I would never make it," he said.
Constance wants to prove them wrong.
The rodeo will begin nightly at 8 p.m. Tickets are available in advance at Ivey's Furniture in Pickens and Easley. Ticket prices are $12 for adults in advance or $15 at the gate. Kids ages 5 to 10 are $8 in advance or $10 the night of the rodeo. Kids under 5 get in free.
The Double B Arena Championship Rodeo will be held at the Double B Arena at 494 Hamburg Road in Dacusville, and is sponsored by Brown's Feed and Seed, S. H. Carter, The Boot Barn, Blanchard's and Farm Bureau Insurance. For more information, call Cory Brown at (864) 246-9426.