Oh Joy! open house to help fight hunger in Pickens County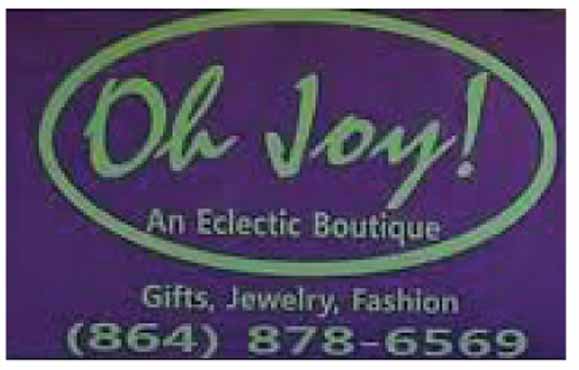 PICKENS — This year has been particularly difficult for many in our community who are struggling to feed their families, and local food banks are overwhelmed with increased need due to the impact of COVID-19.
That is why Oh Joy!, an eclectic boutique in Pickens, is hosting its eighth annual holiday open house and kicking off a canned food drive to benefit the Gleaning House Food Pantry.
Oh Joy! is located at 111 Railroad St. in Pickens, directly behind Arby's at the Doodle Trail trailhead. Voted best boutique in the 2020 Pickens County Courier Readers' Choice Awards, Oh Joy! has men's and ladies' fashion, gifts, home décor and jewelry.
The holiday open house is set for Nov. 6-7 from 10 a.m.-6 p.m. There will be door prizes, a gift with purchases, sip and shop, light snacks, 20 percent off storewide, and when you bring a non-perishable food item to Oh Joy!, you will receive an additional $5 off your in-store purchase. Oh Joy! will match all donations. The canned food drive will continue throughout November and December.
The Gleaning House Food Pantry has been serving groceries to those in need in Pickens County for 20 years. Located at 319 C. David Stone Road, the Gleaning House Food Pantry operates differently than traditional food banks. There, clients are given the opportunity to "shop" for their groceries rather than be given a pre-filled bag with items. Clients must complete an application just once a year. A valid driver's license and proof of residence is required. The Gleaning House Food Pantry is 100 percent volunteer-based and is funded by local churches and individuals.
"We have been blessed over the last eight years of business with the continued support of our community, and now it's time for us to give back," Oh Joy! owner Joy King said. "People in Pickens County are truly hurting right now and are having trouble feeding their family. Children are going to bed hungry. We can all help by just donating one can of food."
Oh Joy! will match all food donations for The Gleaning House, while at the same time giving back to loyal customers with a $5 thank you for their generosity.
"It's a win-win for everyone," King said. "So come shop, give and save all at one place."
For more information call Oh Joy! at (864) 878-6569.