'One of a kind'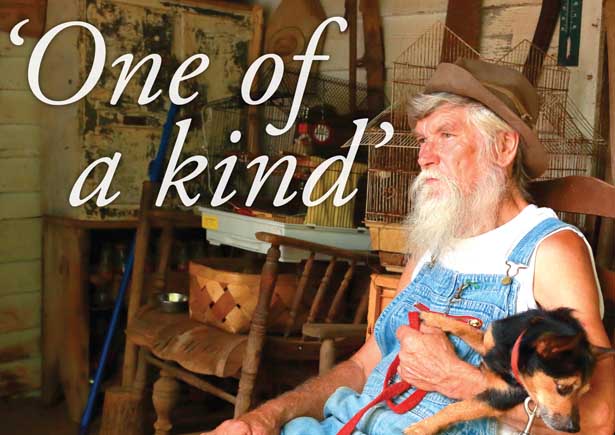 Pickens' beloved 'Mountain Man' dies at 78
By Jason Evans
Staff Reporter
jevans@thepccourier.com
PICKENS — "Mountain Man" Robert Perry, one of Pickens County's most well-known and beloved characters, died suddenly Thursday morning. He was
78.
"We've lost an icon," Hagood Mill director Billy Crawford said Thursday afternoon. "It's a shock to all of us. He was in good health. The man barely had any wrinkles on his face."
Crawford said Perry was "definitely one of a kind."
"He was known near and far by so many people," he said. "He was so recognizable for all his contributions to the community, for the music and the heritage."
Wayne Kelley of the Pickens County Historical Society said Perry is "irreplaceable."
"Robert was the real deal," Kelley said. "He was admired by many, many people. We are stunned and we are sorrowful at this loss."
A moonshining expert, Perry was the inspiration for Hagood Mill's monthly folklife and traditional arts demonstrations, as he asked late site manager Ed Bolt in 1998 "Since you run the mill every month on the third Saturday, why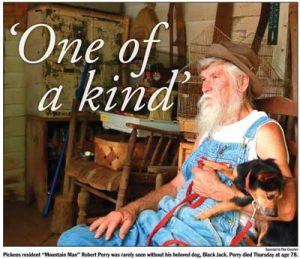 don't I come out here every month and demonstrate the still?"
Perry's late wife, Marlene, soon joined him, demonstrating her sewing and knitting. His daughters would sometimes do "black kettle clothes washing in the creek," and one by one, other demonstrators joined in as volunteers, and the monthly event grew into what it is today.
"His family had been in the moonshining business since the 1750s," Crawford
You must be logged in to view this content.
Subscribe Today or Login