One With the Ride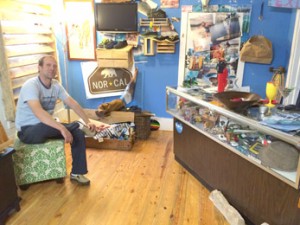 Steve Lorch/Courier
One With the Ride owner John Winchester is a former pro skater, and he and his shop are all about living in the moment.
By Steve Lorch
For The Courier
slorch@thepccourier.com
SUNSET — Lakes, rivers and mountains.
For most of us in the Upstate, those words mean "weekend getaway," but for John Winchester, those words are a lifestyle.
The laid-back 41-year-old is the owner of One With the Ride, what he describes as "a ratty little real-deal island surf shop" in Sunset.
The shop rents and builds high-end paddle boards, wake surfers and river surfers right here in our own backyard.
A former pro skater for Vision Skateboards in the late '90s, Winchester and his shop are all about living in the moment.
"There is nothing like that instant when you really 'get it' — catching a wave, dropping into a halfpipe — when you become one with whatever it is you're doing," Winchester said.
His shop just oozes that vibe.
"My job is to make people happy," explained Winchester. "I give people a life experience that they wouldn't normally find."
One With the Ride carries several product lines, but unlike most paddleboard dealers, the company actually builds its own line of custom boards.
"We are one of maybe two in the U.S. that hand-build our own cores," Winchester said. "As a result, our boards are extremely durable and only weigh about 15-17 pounds (versus 30 pounds for a comparable board)."
Winchester's stand-up paddleboards are so popular that each board is sold before it's even finished. That's why the company would someday like to find a bigger facility in the Upstate to produce on a larger scale.
"We will always try to stay as local as possible," said Winchester, who sources most of his materials within South Carolina.
One With the Ride also gives guided tours to people who want to explore the sport.
"There are really great recreational opportunities here in the Upstate," Winchester said. "To me, there is nothing more important than getting out there and staying active."
If you've been interested in paddleboarding, but have never quite gotten out there to try it, One With the Ride might just be your ticket to a new adventure.
The store is located at 2640 S.C. Highway 133 in Sunset. Hours are from noon-5 p.m. Wednesday through Friday and 10 a.m.-5 p.m. Saturday and Sunday. Tours are available by appointment. The store can be reached at (864) 868-2040 or online at www.onewiththeride.com.
If you know a local small business that would like to be featured in this column, please contact slorch@thepccourier.com.