Parades and events starting to wrap up for holiday season
Photos by Pamela Dodson and Rocky Nimmons
By Pamela Dodson
Staff Reporter
pdodson@thepccourier.com
Municipalities around Pickens County got started with their Christmas celebrations last week, as Six Mile held its annual Old Fashioned Christmas and Pickens held its city tree lighting ceremony on Thursday, while Six Mile, Central and Liberty all held their annual parades on Saturday.Some of the highlights of the events are pictured here. The yuletide season continues this week with events in other parts of the county.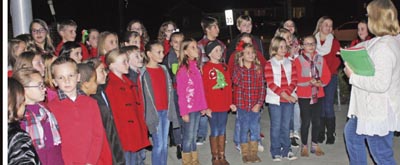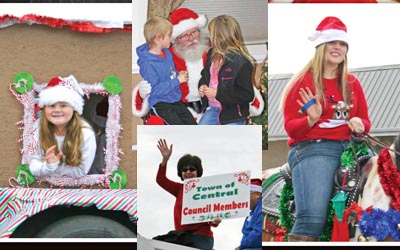 COUNTY — The Christmas season officially got underway last week with parades and events in Six Mile, Central, Liberty and Pickens. More are planned in municipalities around the county this week.
The city of Pickens will hold its Christmas parade beginning at 7 p.m. on Friday. This year's theme is "The Doodle Express." For more information, call city hall at 878-6421, email dowens@pickenscity.com or download entry forms by visiting cityofpickens.com.
Dacusville's annual Christmas parade will be held Saturday beginning at 2 p.m. The rain date is set for Sunday at 2 p.m. This year's theme is "Christmas in the Country." Entry forms can be picked up at the Dacusville Country Store or the Dacusville Farmers Market. Forms and $15 entry fee can be submitted at the Dacusville tree lighting ceremony Friday before 6 p.m. Entry fee will increase to $20 on the day of the parade. Dacusville is also proud to have the Class 3A State Championship Pickens High School Marching Band as part of the lineup.
The Greater Easley Chamber of Commerce will host Easley's annual Christmas Parade of Lights on Saturday beginning at 6 p.m. in downtown Easley. This year's event is sponsored by Hendrick Honda of Easley.
Immediately following the Christmas Parade of Lights, officials invite everyone to remain in downtown Easley to enjoy the Grand Illumination festivities. The festivities take place at City Hall and will include caroling, the lighting of the city's Christmas tree and an official visit from Santa. For questions or more details, call the chamber office at (864) 859-2693.
McKinney Chapel will again host its annual Christmas program and live nativity on Dec. 17 at 7 p.m.