PCVA office seeks lost Vietnam veterans banner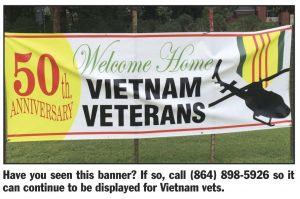 COUNTY -— The Pickens County Veterans Affairs office is need of help in located a commemorative banner that was has been posted in various towns around Pickens County.
The banner is part of the 50th anniversary of the return of United States troops from the Vietnam conflict. The office has posted the banner in Pickens, Clemson, Six Mile, Central, Easley and at the entrance of the Pickens County Administration Complex.
After receiving some needed repairs, the banner was last posted in Liberty, where it disappeared.
The office is asking anyone who finds the banner to please return it. The office is open Monday-Friday 9 a.m-5 p.m. Call (864) 898-5926 if you find this special banner that honors our veterans.