PES Golf Classic scheduled Oct. 8 at Rock at Jocassee
PICKENS — For almost 15 years, the Holly Springs community helped support the "Puttin for PAWS" golf tournament to benefit Holly Springs Elementary through the school's PTO.
The recent school consolidation closed Holly Springs Elementary in June, causing many teachers and students to change schools. Starting at the beginning of the 2016-2017 school year, Pickens Elementary found itself the new home to several teachers and students, as well as principal Donna Harden. In an effort to bridge the two school communities together, the golf tournament is going to continue under the new name the Pickens Elementary Golf Classic, or PES Golf Classic for short.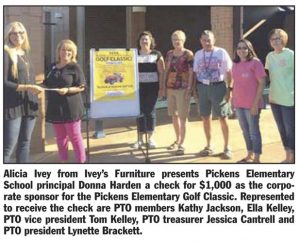 The tournament will be held this year on Saturday, Oct. 8, at the Rock at Jocassee Golf Club. In previous years, the golf tournament proceeds have been the primary financial support for the PTO. The PTO contributes and supports several things in the school such as classroom and school improvement, student awards and recognition, staff appreciation events, and other needs the school has that aren't directly budgeted from regular budget.
"We are looking forward to putting this event on and we appreciate all of the support that the Holly Springs family has received from the Pickens Elementary family as several of our staff and students have merged together," Harden said. "We are looking forward to a great day on Oct. 8."
There are several ways that people from the community can contribute and participate in the event. You can play in the tournament on a golf team. Teams are made up of four individuals, and the fee per team player is $85. The fee includes 18 holes of golf with a cart, breakfast, lunch, mulligans and red tees.
Also, anyone with a hole in one will have a chance to win an XRT 850 Utility Vehicle. Another way to contribute without participating is to help sponsor. Any amount would be welcome but starting at $100 you can be a silver sponsor and advertise your family or business name on each golf cart used by participants. Also other levels of sponsorship are available including a hole sponsor for $150, gold sponsor for $250, which includes your name on each lunch or breakfast bag, a hole sponsorship as well as silver sponsor benefits. Platinum sponsorship is $500 and includes being the name sponsor for a watering hole as well as gold and silver benefits. This year's corporate sponsor is Ivey's Furniture in Pickens. They will have a team represented as well as co-owner Alicia Ivey serving on the board for the tournament. She said the company is "very excited to be able to give back to an event that will help bring the families and students of these two schools together"
A silent auction with lots of donated events from local businesses will also take place to help raise funds for the golf tournament. The items will be on display and available for bidding at Ivey's Furniture, located at 502 Ann St. in Pickens, from Saturday, Oct. 1, through Friday, Oct. 7, during their normal business hours.
For more information, contact PES PTO president Lynette Brackett at (864) 704-0484 or vice president Tom Kelley at (864) 430-8743.