Photographic display now open in Pickens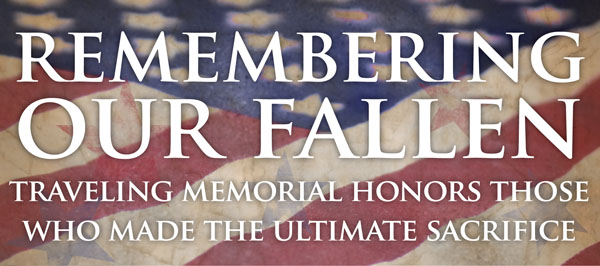 By Jason Evans
Staff Reporter
jevans@thepccourier.com
PICKENS —
A photographic memorial currently in Pickens is a moving reminder of the costs of war and a tribute to those South Carolinians who made the ultimate sacrifice for their country.
"Remembering Our Fallen" is currently on display at Dillard Funerals and Cremations. It is a touring photo display honoring our military who have died from wounds suffered in a war zone since Sept. 11, 2001.
The memorial opened on July 18 and will be on display at the funeral home until Aug. 31. The South Carolina memorial honors nearly 100 men and women who gave their lives in defense of their country.
"Remembering Our Fallen" includes photos of several Pickens County heroes: Capt. Kimberly Hampton, the first female pilot killed in combat in U.S. history; SFC Matthew Bradford "Brad" Thomas, killed in Afghanistan in 2012, Sgt. Edward "Eddie" Heselton, killed in Afghanistan in 2005, and PFC Barrett Austin.
Austin's grandmother, Betty, viewed the memorial on Thursday.
"It's very, very touching," she said. "It's very rewarding to know that people care so much. Being military, we have lived in a lot of places in the United States and some overseas, but I've never seen such patriotism and love as I've seen from Pickens County people when our grandson was killed."
A Pickens High School graduate, Austin was a U.S. Army combat engineer serving in Afghanistan. His unit was assigned to clear roads of improvised explosive devices, or IEDs, so that other troops could travel to their destinations safely.
On April 17, 2013, Austin was driving a vehicle when it struck an IED.
Severely injured, Austin was flown to an advanced medical facility in Landstuhl, Germany, for treatment. His wife, Heather, and his parents, Curt and Yolanda, were at his side when he passed away four days later.
His body was flown back to the Upstate, where it was met by an honor guard. Community members lined the route between the airport and Dillard Funeral Home, many waving flags, welcoming a local hero home and offering messages of support and love to his family and friends.
"It warmed our hearts," Betty Austin said of the community's support. "So many people that we never knew and never will know responded to us. It's amazing to see God's love poured out to each of his children."
Barrett Austin "never met a stranger," his grandmother said.
"He loved everybody; he cared about everybody," she said.
She recalled many times, as the family sat around the dinner table talking, names would be brought up in conversation.
"You'd mention a person and Barrett would say, 'Oh, I know him, he's my friend,'" she said. "It may have been someone he'd only met once, but 'he's my friend.' We've heard so many stories from so many friends. He was just loved."
Betty said Barrett never "outgrew his grandparents."
"He spent as much time as he could with us, not because he had to, because he wanted to," she said.
The first "Remembering Our Fallen" was created in 2010 by Bill and Evonne Williams of Omaha, Neb. The couple were inspired after reading a newspaper story that quoted a father whose son had been killed in action. The man felt that his son had already been forgotten.
With the backing of that newspaper, the Omaha-World Herald, and several sponsors, including Bellevue University, the first memorial was created. It featured photos of Nebraskans who had died in the War on Terror since Sept. 11, 2001. After that memorial's public opening, it traveled around Nebraska for years.
Bellevue University officials asked the Williamses if they would be interested in doing the project in other states. That led to the creation of Patriot Productions, a nonprofit organization that organizes the "Remembering the Fallen" memorials in different states.
The goal of the memorials is to honor the memories of the fallen, to comfort their friends and families and to remind others of the tremendous cost paid by some.
Families were asked to provide their favorite military and non-military photos of their loved ones.
Once memorials for all 50 states are completed, they will be pulled together for a national ceremony to kick off a national tour. Officials hope that tour will begin in 2017.
To find out how you can help the project, visit www.rememberingourfallen.org/getinvolved.