PHS band wins first state title in school history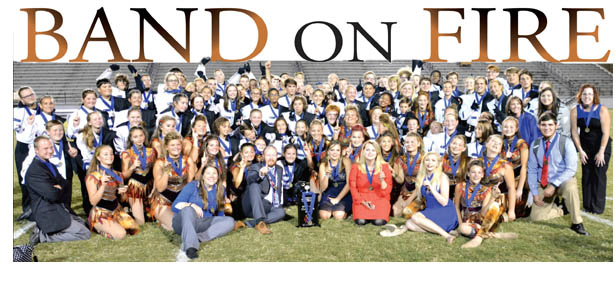 Special to The Courier
The Pickens High School Marching Band won its first-ever state championship over the weekend.
PICKENS — The Pickens High School Marching Band, under the direction of Chaz Paxton, won the South Carolina Band Directors Association Class AAA State Championship on Saturday, topping off a perfect 2016 season.
Musical selections for this year's show titled "Fan the Flame" feature "Firebird" by Igor Stravinsky, "The Fire of Eternal Glory" by Dimitri Shastoakovich and "Wild Nights" from "Harmonium" by John Adams.
This gifted group of seventh through 12th-grade students from Dacusville Middle, Pickens Middle and Pickens High School have excelled under the leadership of Paxton, having an undefeated season and winning their first-ever AAA Upper State Championship and their first-ever AAA State Championship.
Weeks of exhausting preparation in the scorching summer sun prepared the students — affectionately known as the "rock stars" — for their first competition at the Boiling Springs Festival of Bands on Sept. 24. They won first place in Class IV preliminaries and won grand champions over all the bands that day.
The following week, they journeyed to Byrnes High School in Duncan for the C. Philip McIntyre Tournament of Bands. Once again, the Pickens rock stars were crowned victorious as both Class V champions and Gold Division champions among 13 bands competing that day.
After a week off, the Pickens band drove to neighboring Pendleton for the Pride of Pendleton Marching Classic on Oct. 15. They placed first out of six AAAA bands and received High Music, High Visual, Best Percussion and Best Color Guard for their class. Once again Pickens was named grand champions among 25 bands competing and awarded for Best Overall Effect.
Special to The Courier
Fresh off the first state championship in school history, the Pickens High School Marching Band will be recognized and give an encore performance of its honored show, "Fan the Flame," at halftime of Friday night's Blue Flame football game against county rival Daniel.
Twenty bands from across the Upstate of South Carolina arrived in Gaffney on Oct. 22 for the AAA Upper State Championship. Continuing its perfect season, the Pickens band won first place and was named AAA Upper State Champions for the first time in school history.
On Oct. 29, Pickens traveled to Batesburg-Leesville High School and competed with the top AAA bands from the previous week' Upper State and Lower State contests. Excitement mounted during awards as placements were announced, beginning with 13th place. A sea of Pickens blue erupted in cheers, claps and whistles as the historic first-place finish was revealed and the Pickens High School Marching Band was named the best AAA band in South Carolina for 2016.
Paxton's staff this year has included Dacusville Middle School band director Kelsy Rusk,  Pickens Middle School band director Connie Douglas, Cydney Reid, Austin King, Layne Mauldin Cutshall, Mallory Yandle Bowers, Alex Armock, Bronson Brown, Emilee Louise Clark and Jennifer Crowe. In addition, the Pickens band has had an outpouring of support and love from parents, friends and alumni.
The band will be recognized and will celebrate with an encore performance during halftime at the Pickens-Daniel football game this Friday, Nov. 4.