PHS JROTC holds flag retirement
PICKENS — On Tuesday, Oct. 12, cadets of the Pickens High School JROTC conducted a flag retirement ceremony
at Pickens American Legion Post 11.
The ceremony, according to U.S. Flag Code, destroyed worn and tattered flags that are no longer serviceable. Flags to be destroyed were donated to the American Legion by Pickens residents. Following inspection by the cadet battalion leadership, the flags were destroyed by fire in the ceremonial pyre. The ashes of the flags are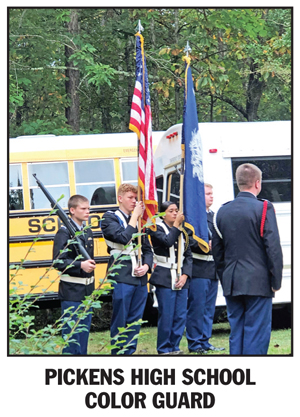 buried in the American Legion's memorial garden and will serve as a bed for newly planted iris. The iris was chosen to be planted on the remains of the flags because this flower symbolizes wisdom, hope, trust and valor.
After the ceremony, the cadets hiked the Doodle Trail and enjoyed a cookout lunch at American Legion Post 11.
If you have a flag that is faded and tattered and want it disposed of properly, drop it off at Market at the Mill with Legionnaire Bob Cirkus. Bob's Military Memorabilia booth is located in Warehouse No. 1 on the right side of the building. The flags will be given to Pickens JROTC for proper retirement per U.S. Code next March.