PHS player earns honors at volleyball AAU championships
PICKENS — Pickens native Lexi Wierzbicki received an award at the 43rd annual AAU Girls Junior National Volleyball Championships in Orlando, Fla., on June 22. The rising Pickens High School sophomore was honored after her club volleyball team finished third in the nation in the 15U Premier National Championships for Axis Elite Volleyball Academy, located in Simpsonville.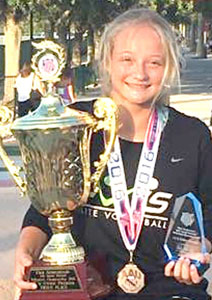 Wierzbicki was a catalyst in the team's national title chase, finishing with a record of 10 wins and only two losses.
Axis Elite 15 Open lost in the semifinal match against the No. 1 overall seeded Palm Beach Elite Juniors in straight sets. The semifinal loss ended a stellar run by Axis Elite, which came in as the No. 21 overall seed out of 80 teams in the division.
Wierzbicki was a huge part of the success of the team, as she amassed 85 kills in 149 attempts, with only 18 errors in 12 matches. She also accounted for 16 blocks, 14 digs, nine aces and an attack efficiency of .450.
Those numbers earned Wierzbicki  recognition as one of 12 All Star/All American players for the tournament out of at least 700 girls.
Wierzbicki and Pickens High volleyball teammate Sydney Bolding also received honors earlier this year when the pair were named honorable mention and special mention, respectively, by PrepVolleyball.com on its annual list of the top 59 freshmen players in the country based on their performances during their freshman seasons. The rising sophomores produced massive numbers a year ago.
Wierzbicki helped lead the Blue Flame to a 27-13 record in 2015. She finished the season with an impressive 202 kills, 93 kill-blocks, 37 aces and 37 digs.
Pickens High School coach Jennifer Gravely lauded Wierzbicki, saying "we have a great future ahead of us."
Bolding made a major impact her freshman year as well. She contributed 183 kills and 93 kill-blocks, even while suffering an ankle injury at one point in the season.
"Bolding is definitely a player to watch in the future," Gravely said.
With the talent of Weirzbicki and Bolding, combined with the rest of the talented Blue Flame players, the Pickens volleyball team is looking to get back to the State championship game this fall for the first time since securing back-to-back titles in 2013 and 2014.