Pickens Blue Flame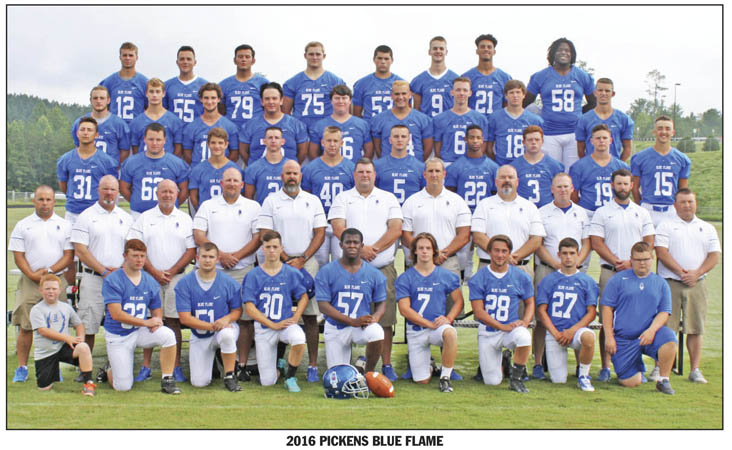 Trending upward
Leadership, health keys for Blue Flame to continue improvement
By Eugene Jolley
Courier Sports
ejolley@thepccourier.com
PICKENS — Pickens coach John Boggs said this year's team has two quarterbacks — one on offense and one on defense.
A key for the Blue Flame will be keeping those quarterbacks, as well as the other players, healthy and on the field.
Last season was one of improvement for the Blue Flame. For the team to repeat that, Pickens can little afford any key injuries.
The Blue Flame got better each week last season, won one more game than the previous season, and again made the state 3A playoffs, where they lost to Western 3A region champion Seneca.

"Really we've got two quarterbacks — one on offense and one on defense," Boggs said. "Having Tanner Stegall on offense, he's kind of the key of what we do offensively. He's doing a really good job of seeing the field, throwing the ball and leading the offense.
"On the defensive side, Cole Seaborn, who has some back spasms right now, he's our quarterback on defense. He was out here coaching his tail off tonight getting everybody in the right place (during a preseason scrimmage). That was good to see. You've got some good leadership in key positions on both sides of the ball."
Stegall leads a group of five starters back on offense. Stegall passed for more than 1,100 yards last year with 11 touchdowns and eight interceptions. Stegall has a big arm, evidenced by a deep scoring strike to Sam Lawson during a preseason scrimmage against Berea. Look for Stegall to throw more this season with three- and four-receiver sets.
Lawson is the leading receiver returning and will also start at one corner spot on defense. Senior Robert Jones, who has played tailback as well, will start at one receiver position along with Cole Stewart. Nate James also will contribute there, as will Daniel Hooper, Lenny Russell and Jamal Blythe. Newcomer Stone Prince will play tight end and also start at defensive end.
Senior Brandon Batson returns at tailback after rushing for more than 400 yards last year. Senior Kyle Day is battling him. Robert Jones and Jamal Blythe may also get some carries out of the backfield.
Two offensive linemen return — senior Dorian Butler at tackle and sophomore guard Braden Gravely. Butler missed the playoff game last season, but will enter as a three-year starter. Gravely started 10 games as a freshman.
"Having a couple of returnees on the offensive line helps," Boggs said. "We still have some guys who are being tested up front — some young guys. They're progressing nicely. They just have to continue to learn and continue to step up to the challenge."
Junior Hudson Burgess, who missed last season with an injury, will start at center, while the right side of the line will be manned by guards Jerad Croley or Jake Gantt and tackles Kent Townsend or freshman Will Burgess.
"Whoever is playing the best is going to be there," Boggs said of the right side of the line. "We're rotating about three or four guys there, and whoever steps up there and No. 1 knows their assignments then No. 2 plays hard and physical is going to be the guy that plays the most."
For the first time in a few years, a Gravely won't be kicking at Pickens, as 2015 Shrine Bowl selection Matt Gravely is now at North Greenville, following in the footsteps of his brother, Justin. Right now, newcomer Dillon Banyard will kick, and either Stegall or Prince will handle the punting duties. Seaborn will snap and Lawson will hold on the kicks.
"Dillon has stepped in," Boggs said. "I think Cole Seaborn recruited him and talked him into coming out. We have Harold Alexander, who is the best kicking coach in the world. He works with our punters and our kickers. He's taking Stone Prince and worked with him at punter and has taken Dillon and worked with him at kicker. Harold takes those guys with average ability and can make them great. They listen and pay attention, and he will get them to where they need to be."
On defense, Seaborn will return as a senior inside linebacker after leading the team in tackles a season ago. He will pair with junior Bryson Capps on the inside. They'll be backed by sophomore Collin Hinkle and senior David McGaha. On the outside, Prince opens at one position, with senior Jared Pace on the opposite side. Russell and Kyle Day will back up for now at outside backer.
Three starters return in the secondary, with Jones at strong safety, Blythe at free safety and Lawson at cornerback. Jones picked off three passes last season. Isaiah Mitchell, a senior, is starting at one corner. They'll be backed by Will Alexander, Nate Harris, Stewart, Ethan Mathis and Hooper.
No starters return on the defensive front, and Boggs is playing a lot of players there trying to hit the right combination. Senior Tanner Stewart returns and starts at one end position, flanked by junior nose tackle Yozvany Diaz and Townsend at end. Gantt, Butler and D.J. Whitlock battle at end. Inside, Hunter Galloway, senior Richie James and Braden Gravely are competing for playing time.
"We lost a lot of those guys up front — some really good players up front," Boggs said. "That's the thing we're still working toward trying to get some more guys in there. Some of the guys on the offensive side will have to step in there and help us there in some key situations. I almost have to substitute like a basketball coach trying to keep everybody fresh."
It's been a good summer and preseason for Pickens, participating in several 7-on-7 and linemen competitions. The preseason had the Blue Flame playing J.L. Mann and Berea in a scrimmage in addition to a four-team scrimmage.
"We made progress from where we were (during a previous scrimmage)," Boggs said following a four-team scrimmage with Walhalla, Abbeville and Chesnee. "I feel like we have a long way to go to be ready for Friday. We'll keep working. I was proud of the kids' effort and I was proud of how physical they played. There were some really good football teams out here tonight, and I feel like we had a good test tonight and I feel they stepped up tonight, did a good job and responded well."
Last year, Pickens only played about 24-25 players a game. This year, look for those numbers to go up, especially early.
"Intentionally, right now trying to get some guys evaluated and get them on film," Boggs said of playing a lot of players. "And make some decisions on some guys. Scrimmage time is the best time to do that. We're working toward an end. So even early in the year, we're going to play a lot of kids. We look at it as they're going to develop. When that season starts Friday, that starting lineup may not be the lineup the rest of the year. They've earned it, but they've got to keep it. As more guys develop and get better, hopefully they'll be able to step in and play more as the year goes on."
The non-region schedule is five games, but very similar to last season, adding Seneca and West-Oak to Pendleton, Liberty and the season opener with Easley.
This year, Pickens is moving to Region I-4A with Greenville, Daniel, Belton-Honea Path and Wren.
"It's as tough as it gets with the people we have to play. Daniel, BHP, Wren and Greenville — that's four good football teams," Boggs said. "You have to be up every week and hopefully stay healthy and improve over the course of the year to be ready when the time gets here."
That time begins Friday night, when the Blue Flame will play host to rival Easley in the annual Meals on Wheels Food Fight Bowl.