Pickens County Celebrating America
Festivals begin Saturday
COUNTY — Pickens County will be celebrating Independence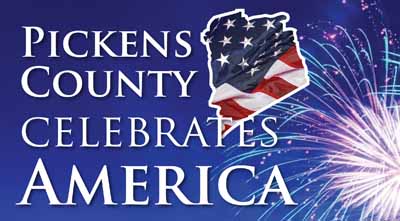 Day with a variety of events beginning Saturday and continuing through the evening of July 4 next Wednesday.
Six Mile — June 30
Six Mile's Independence Day festival is scheduled for Saturday at Ponderosa Park. The free community event will be held from 5-9 p.m.
The festival features a full slate of events, including plenty of activities for the whole family, music and other entertainment.
Kids' inflatables will be available from 5-8:30 p.m.
At 5:30 p.m., those in attendance will be able to enjoy a children's bicycle parade. There will be prizes for the best decorated bike, the best dressed biker and the best overall.
A tunnel water fountain will be available from 6-8:30 p.m.
Hot dog plates will be on sale from 6-8 p.m., and popcorn, lemonade and cotton candy will also be available.
At 7 p.m., a three-legged race will be held, along with a potato sack race.
Balloon twisters will also be on site fropm 6-8 p.m., and fireworks are set to begin at 9 p.m. or dark.
Attendees are encouraged to bring their own blankets and chairs.
Clemson/Central — July 3
ClemsonFest will have a new home to celebrate its 25th anniversary.
The annual community Independence Day celebration will be held from 5-10 p.m. Tuesday at 1569 Eighteen Mile Road in Central, the site of Spittoono.
The festival will bring up to 7,000 people to enjoy the music of the Carolina Coast Band, according to event organizers.
The band will take the stage at 6 p.m. The award-winning band has many tributes for its performances, including Carolina Beach Music Festival Beach Band of the Year. It sets the standard for Carolina shag music performances. The band will offer a few of its original tunes, "I Love Beach Music" and "Carolina Girls," along with a wide selection of songs from other artists, including Wilson Pickett, Van Morrison and the Beach Boys.
At 9:30 p.m., the band will give way to a spectacular fireworks show before returning to close out the event.
In keeping with the Independence Day theme, the Boy Scouts of Troop 161 will conduct a flag-raising ceremony at 5:50 p.m. and will return at dusk for the flag lowering and playing of taps.
The first 1,000 people will receive a small American flag distributed by the Boy Scouts of Troop 161. The flags are a gift to the public from Tri-County Ace Hardware of Clemson.
Food vendor offerings will range from barbecue, grilled chicken and sweet potato fries to ice cream, shaved ice, kettle corn and funnel cakes.
Admission is $5 per person or $10 per carload.
Easley— July 3-4
The city of Easley's annual 4th of July Festival will stretch across two days, running from 4-9 p.m. Tuesday and 2-11 p.m. Wednesday at Old Market Square.
The event promises food, games, live music and fireworks.
The festival will also feature more than 10 amusement rides.
Sponsored by Hendrick Honda and the city of Easley, the festival wil have live music both nights, featuring Majic, The Flashbacks, Nusound and Ashland Craft from "The Voice."
More information will be posted online at facebook.com/CityofEasleySC/.
Liberty — July 4
The 2018 Love My Liberty. Community Cookout and Fireworks celebration will be held from 6-9 p.m. Wednesday at the old Liberty High School football stadium on S.C. Highway 93.
The family-friendly event is co-sponsored by Seth Crow State Farm and Print That Stuff! and will offer free hot dogs and water, as well as lots of children's activities, including inflatables.
The annual Emma KAPP Children's Bike Parade is scheduled to begin at 6:30 p.m.
Live music will be performed by Split Shot, and the event will also feature booths from area churches and businesses, as well as a corn hole tournament to benefit the Liberty Recreation Department.
At dark, there will be a professional fireworks display. For more information, visit libertyscevents.com/love-my-liberty-july-4th/.
Pickens — July 4
Pickens' annual 4th of July celebration will be held at the Pickens amphitheater on Wednesday.
The event promises food, music and fun.
The Jake Bartley Band will perfrom beginning at 7 p.m. at the amphitheater, located at 114 W. Main St.
Fireworks are also planned.