Pickens High coach arrested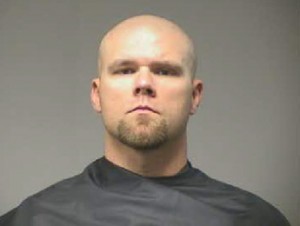 Police: Dorr provided alcohol, had sex with student
PICKENS — A former Pickens High School assistant coach was arrested last week after police said he had sex with a student after drinking alcohol with players and other teens.
Joshua Bennett Dorr, 29, of 179 Praters Creek Road in Pickens, was charged with contributing to the delinquency of a minor and sexual battery with a student, according to Pickens police chief Rodney Gregory. Dorr turned himself in to Pickens police at around 6 p.m. on Oct. 1.
Dorr, who was not a teacher at Pickens High, resigned his coaching position on Sept. 29 and was placed on trespass notice from the school.
According to an incident report, a 17-year-old Pickens High School student told police she received a call from a male student about hanging out at about 1 a.m. on Sept. 21. The boy and another male friend — both seniors at Pickens — picked the girl up and took her to a house on Pineview Drive, she said.
When the group arrived at the home, the girl told officers, she saw five other teen boys, including three she knew, as well as one adult, identified as Dorr. The girl said she knew Dorr as an assistant football coach at Pickens.
The girl told police there was beer in the living room, and "all the boys and coach Dorr were drinking," according to the incident report. She said the boys offered her beer, but she did not drink any.
Later, a little after 4 a.m., Dorr entered a bedroom where the girl was and, after some small talk, asked her if she wanted to have sex, she told police. She said she told him she wasn't sure about it and was tired and didn't feel up for it, but "Dorr shrugged it off and started kissing" her, according to the incident report. The two then had sex, she said.
Afterward, with everyone in the living room, she asked for a ride home, she said. After some discussion, the girl said, Dorr said he was probably the most sober of them all and took her home.
The girl said Dorr asked for her number and she gave it to him "so it would seem she was OK," according to the incident report. She said Dorr texted her a couple of times after the incident.
The girl said she didn't tell anyone about the incident, but word started traveling around school and a boy asked her sister about it. After her sister went home and told her parents, the parents talked with the girl and the group filed a police report the following day.
Dorr later admitted to having sex with the girl in an interview with police, according to an arrest warrant, which also said Dorr told the other boys at the home at the time of the incident that he had had sex with the girl.
Gregory said Dorr was charged with sexual battery on a student under a state law that says in part "if a person affiliated with a public or private secondary school in an official capacity engages in sexual battery with a student enrolled in the school who is 16 or 17 years of age, and aggravated coercion or aggravated force is not used to accomplish the sexual battery," the person "is guilty of a felony and, upon conviction, must be imprisoned for not more than five years."
The arrest warrant for the contributing to the delinquency of a minor charge alleges Dorr bought alcoholic beverages for the teens at the gathering and that the oldest person at the gathering other than Dorr was 17 years old. In addition, the warrant says "the defendant was part of a sexual escapade that willfully injured and endangered the morals of the other juveniles present."
School District of Pickens County spokesman John Eby said Dorr has not been in contact with students from the moment police informed school officials there were impending charges against him.
"We do not tolerate any behavior that puts the safety of our students at risk," Eby said. "Our employees know exactly what is expected of them when it comes to interactions with students, and when those boundaries are crossed, we will act as quickly as possible to protect the young people in our care."
Although he admitted addressing the students involved is a "complex issue" since the incident occurred away from school and not during school hours, Eby said some of the behavior brought to school officials' attention was a violation of the district's athletic code of conduct.
"As a result, appropriate disciplinary action has been taken toward three football players, and our investigation into the incident is ongoing," Eby said. "Playing sports is a privilege, and we expect our student-athletes to set a good example of character both on and off the field."
After spending a night in jail, Dorr was released on a $35,000 surety bond on Oct. 2.