Pickens High School Class of 2019 – Awards and Honors
The following students graduated from Pickens High School during commencement ceremonies at Littlejohn Coliseum in Clemson on Saturday, May 25.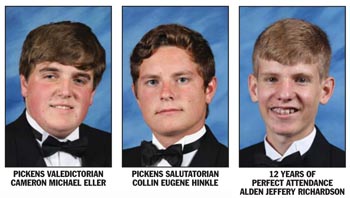 Chelsie Lynn Molica Aiken, Brooke Mackenzie Alexander, Carlton Edmond Alexander, Linda Caroline Alexander, Richard Chase Allison, Jacob William Anders, Zane Owen Anders, Je'na Cherokee Anderson.
Taylor Sabrina Bagwell, Emily Rae Bailey, Savannah Grace Bailey, Elizabeth Paige Barker, Dylan Kameron Barksdale, Jarod Wade Barton, Addison McKenzie Beard, Isaac Drake Beccue, Caleb Matthew Belcher, Abigail McKinzi Bergholm, Nichalos Bailey Berryhill, Kiara Savannah Biddle, Linda Bethanny Billingsley, Peyton Elijah Black, Teri Danielle Black, Dennis Colby Blakely, Sydney Lauren Bolding, Tristan Kent Bolding, Matthew Glenn Bowen, Allison Michelle Bradley, Jackson Wesley Bratton, Cassandra Elaine Brezeale, Sidney Marie Brezeale, Charles Brandon Bridgeman, Cassie Mae Bridges, Grayson Nicholas Broom, Christopher Dylan Broughton, Karson Breanna Brown, Ivy O'Lynn Bryan, Jesse Edwin Burdine, Juan DeMarco Burgess, Kiersten Elizabeth Burke, Alexander Elliott Butts, Corbin Xavier Byers, Barry Robert Bynum.
Randy Lee Cain, Sarah Jenae Elizabeth Cain, Kelli Lauren Callahan, Khalil Tariq Cannon, Jasper Douglas Cantrell, Anthony Jamar Canty, Savannah Ileatha Cardinale, Wyatt Lucas Carlson, John Nolan Case, Jeremy Dale Cassell, Alexis Kay Chandler, Kali Michelle
You must be logged in to view this content.
Subscribe Today or Login