Pickens host cross country meet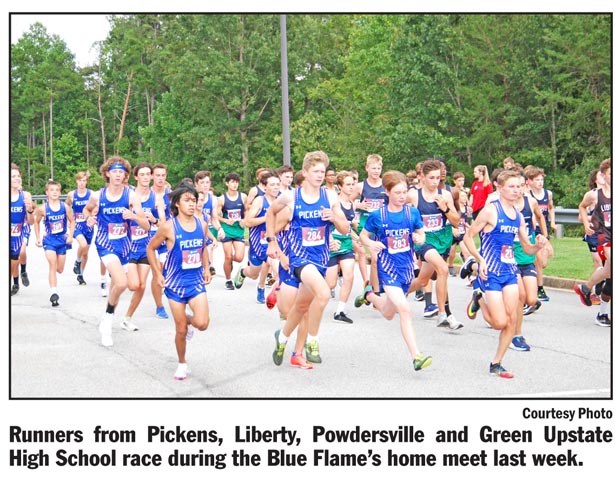 By Bru Nimmons
Sports Editor
bnimmons@thepccourier.com
PICKENS — Pickens High School hosted its first cross country meet of the season last week competing against Liberty, Powdersville and Green Upstate High School of Spartanburg.
The Blue Flame had strong finishes in both boys and girls competition with the Blue Flame girls taking first place and the Pickens boys finishing in second place behind Powdersville.
From the first place girls team, eighth grader Ella Tetor stole the show taking first in the girls 5000 meter run with a time of 21:26.19.
Junior Ella Harned (third, 22:21.62), sophomore Lilly Kutilek (sixth, 24:06.69), eighth grader Allie Kutilek (seventh, 24:21.35), junior Emma Grace Kutilek (eighth, 24:31.85) and senior Sophia Kruse (10th, 25:05.87) all finished in the top 10 for the Pickens girls
On the boys side, sophomore Adam Ellis (fourth, 18:27.77), senior Jeremy Sisco (fifth, 18:33.01) and sophomore Liam McCall (eighth, 18:43.80) all finished in the top 10.
Pickens County's other representative at the meet, the Liberty High School boys, had a great showing from its top runners but still finished in third behind Pickens. The Red Devil girls did not compete in the event.
Liberty senior Isaac Esuary took first place in the boys 5000 meter run with a time of 17:40.67, while sophomore teammate Reid Finley finished in second with a time 17:40.96.
The two Pickens County teams will compete against each other in the Pickens County Cross Country championship on Sept. 30.
Pickens High School is set to host the county championship.