Pickens Machine Pitch All-Stars earn Sportsmanship Award at state tourney
CLEMSON — The 2018 Pickens Machine Pitch All-Star 7- and 8-year-old team recently participated in the Dixie Youth State AA Machine Pitch tournament at Nettles Park in Clemson.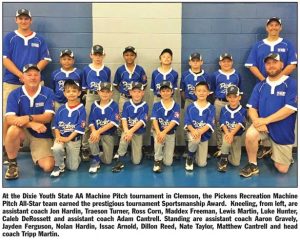 The tournament, held July 6-10, hosted 16 teams from across South Carolina. Opening ceremonies were held at Doug Kingsmore Stadium in Clemson, where the team was presented with their District 1 AA champions flag.
Tournament games began the following day, when Pickens received its first loss against Blythewood.
The team then went on to defeat Georgetown and Moncks Corner before a final matchup with Blythewood that resulted in a loss and sixth-place finish in the tournament.
On closing day of the tournament, Pickens received a trophy for the prestigious tournament Sportsmanship Award.
This award goes to the team that demonstrates outstanding conduct and a positive attitude both on and off the field.