Pickens Middle School teacher hikes to raise money for cancer research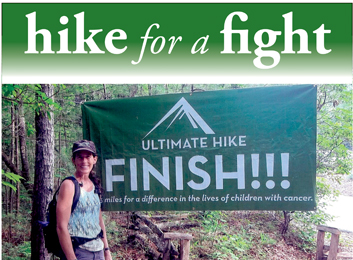 Photo courtesy Louise Hope
Pickens Middle School teacher Louise Hope recently completed a 28-mile hike in one day to raise money for children's cancer research after one of her students was diagnosed with leukemia.
By Nikki Rutledge
For The Courier
nrutledge@thepccourier.com
PICKENS — Many say there are teachers who make an impact on their students that lasts a lifetime.
Louise Hope, a community education teacher at Pickens Middle School, is one of those teachers.
When the news broke that one of Hope's eighth-grade students and a fellow Pickens Presbyterian Church member, Kent Townsend, had leukemia, she began searching for a way to help.
She found her opportunity serendipitously.
"It was almost divine intervention the way I happened upon the email that led me to Ultimate Hike," she said. "I had been thinking to myself 'What can I do?' when I scrolled all the way to the bottom of my list of mail, and clicked on an email from a hiking apparel company called REI.
"Inside the email was a link to learn more about Ultimate Hike, and when I saw that it was aimed at helping children with cancer, I knew I had to do it."
Ultimate Hike is an event that benefits a non-profit foundation called CureSearch. The foundation raises money for research targeted specifically toward children's cancer.
Townsend was diagnosed with Burkitt leukemia in March, and tests will be conducted in December to determine if he is cancer-free. Townsend is currently undergoing rounds of chemotherapy to ensure his cancer remains at bay.
In order to qualify for the hike, Hope was required to raise at least $2,400 in donations to CureSearch in Townsend's honor.
Hope gave credit to her friends and family for helping raise the money.
"I emailed all of my friends and I received an outpouring of support — even my own children donated," she said. "I would check my donation page every day, and some days I would see a donation from someone I didn't know that was a friend of a friend. My friends were sharing the page with others to help me meet my goal."
The hike took place on the Foothills Trail beginning in Oconee State Park on June 28 and was a staggering 28.3-mile journey set to be completed in one day.
Hope was one of a group of more than 20 people who participated in the hike, and they finished together in just 14 hours.
"I've been on plenty of hikes before, just for fun, so I had an idea of what to expect," she said. "There were marked rest stations with bathrooms, snack areas, and even an EMT available to treat injuries. We had two miles toward the end of rain, and of course after the rain the bugs came. Overall, it was an enjoyable hike that I would definitely do again.
"When I finished, I told Kent that I want him to go on the hike with me in 2016."
Hope said the hike and raising money for cancer research in honor of her student was a life-changing experience.
"I am so much more aware of how many children are diagnosed with cancer each year," she said. "You see the commercials on television and you don't get an accurate representation of the cure rate or the overwhelming percentage of children that are diagnosed."
Donations to CureSearch and Ultimate Hike can still be made in Townsend's honor at CureSearch.org, and donations for Townsend and his family can be mailed to Pickens Presbyterian Church at 311 West Main St, Pickens, SC 29671.