Pickens mourns Black's death
PICKENS — The Pickens community is mourning over the loss of a true Pickens gentleman, as lifelong Pickens resident Jack Black, 87, passed away on Saturday.
Black was born in Pickens County, son of the late Joseph Tribble and Sara Goldsmith Black. Born with a servant's heart, Black was always active in his community. He retired from the city of Pickens as superintendent of streets and sanitation and served as a volunteer firefighter with the Pickens Fire Department for 52 years. Black served on Pickens City Council for 13 years and served as a bailiff in the county court system for 16 years and formerly served as a state constable. A true people person, Black never met a stranger and was always willing to help.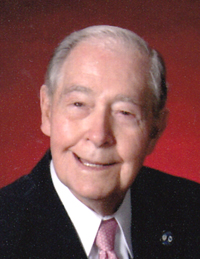 "Jack's passing is a huge loss to the Pickens community," Sen. Larry Martin said. "He loved Pickens and spent the better part of his life serving the town and its citizens in some way. Jack did a great job during his service on the city council and was one of the longest-serving volunteer firemen. Jack was a good friend and will be greatly missed. Susan joins me in extending our deepest sympathies to Mrs. Black and the family."
State House representative Davey Hiott echoed Martin's admiration for Black.
"Jack was someone who always told you how to do things the right way," Hiott said. "I never asked his advice unless I was planning on using it. He left his mark on Pickens in a very positive way. Our prayers go out to his wife and family."
Former Pickens mayor Ted Shehan served many years with Black, who was a lifelong time friend.
"Jack is one of the best friends I have ever had," Shehan said. "He loved his country, he loved his family and he loved God. I never heard Jack Black say a negative thing about a single person. He was always positive and upbeat. The world would be a lot better place if we had more people like Jack Black in it."
"Jack Black was a true gentleman and was always involved with his family and community," said Pickens clerk of court Pat Welborn, who served with Black on Pickens City Council, the Pickens Fire Department and at the Pickens County Courthouse. "He was the type of person that would shoot it to you straight, but in a way that all always respected. My thoughts and prayers go out to his family. He will be missed."
Pickens mayor David Owens also spoke of the great void Pickens will have to fill with the loss of Black.
"Jack was a good friend to me, my family and the city of Pickens," Owens said. "He would always do anything he could for you. He served the city in so many ways, from his years in the fire department to his time working for city, to his tenure on council. He was on council when I was elected in the year 2000 and served two more terms after I was elected mayor.
"He always supported me. Pickens lost another great citizen when it lost Jack Black. My thoughts and prayers are with his family."
Black was a member of Pickens Presbyterian Church, where he served as an elder, deacon and Sunday school superintendent. He was a member of Keowee Lodge #79 A.F.M. and the Hejaz Temple of The Shrine in Greenville.
Black served more than 40 years and was retired as Command Sergeant Major of the S.C. Army National Guard. He served as Command Sergeant Major for South Carolina from 1985-1986 and he was a member of the American Legion Post 51 in Pickens. He was one of the first Boy Scouts in Troop 51 in Pickens. Among his many honors, he was inducted to the S.C. National Guard Hall of Fame in 2006 and was one of five winners of the "I Fan the Flame Award" awarded by the city of Pickens. He was also recipient of Duke Energy's "Citizenship and Service Award" in 2008.