Pickens outdoors store now open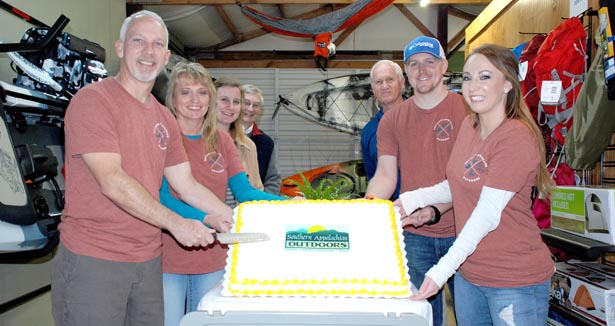 Southern Appalachian Outdoors opened for business on Monday. The new store, located at 506 W. Main St. in Pickens, offers all you need to start your outdoor adventure. Pictured, from left, are store owner Marty Fields, staff member Pamela Smith, PRA director Allison Fowler, Pickens Chamber director Mike Parrott, Pickens mayor David Owens, and staff members Samual Smith and Alicia Fields.
PICKENS — Pickens has a new outdoors store open for business.
Southern Appalachian Outdoors, located at 506 W. Main St., offers families and individuals the equipment and information to create their own outdoor adventure.
Owned and operated by Marty Fields, the store has supplies for fly-fishing, conventional fishing, hiking, camping, biking and kayaking.
"We are planning to offer fly-casting classes as well as fly-tying classes in the future," Fields told the Courier on Monday's opening day. "Hiking and backpacking clinics are also something we would like to make available in the future. My hope is to encourage people to pursue a lifelong passion for an active lifestyle outdoors."
Fields said his adventures began with several memorable camping trips with his family to Table Rock State Park and Keowee Toxaway State Park.
"We enjoyed the gorgeous lakes and variety of hiking trails," he said. "My family and I moved from Florida to the Upstate in 2000. Being within a few miles of streams, trails and paths furthered my passion for the outdoors."
Fields said he found while spending time in nature, his eyes were open to more of God's beautiful creations.
In 2003, Fields began trying fly-fishing for trout in the mountains. He also began doing some hiking in the surrounding area beauty and later took up biking and kayaking.
"Being outdoors provided a wonderful opportunity to spend time with my family and share my love for nature," he said. "I was overwhelmed with this desire to provide others with this same experience. After living here a little while, I saw the need for a store like this in our community."
Southern Appalachian Outdoors is open Monday, Wednesday and Thursday from 10 a.m.-6 p.m. and Friday and Saturday 9 a.m.-6 p.m. The store is closed on Tuesdays and Sundays.
For more information, call (864) 507-2195. See Southern Appalachian Outdoors' ad on the Courier's Pickens Small Business Saturday page this week with specials for your outdoor adventures on page 8B.