Pickens' Owen named 2016 SC Farmer of the Year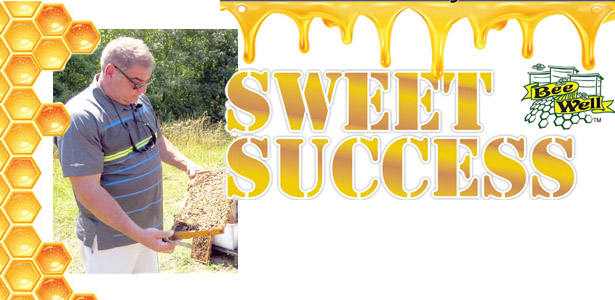 Denise Attaway/Photo
Kerry Owen studies a tray of bees from his farm, Bee Well Honey Farm in Pickens. Owen has been selected as the 2016 Swisher Sweets/Sunbelt Expo Farmer of the Year.
By Denise Attaway
Clemson University
news@thepccourier.com
PICKENS — A Pickens beekeeper has been named the 2016 South Carolina Swisher Sweets/Sunbelt Expo Farmer of the Year, something a Clemson Cooperative Extension agent says is a strong indication of the agricultural diversity in the state.
Denise Attaway/Photo
Kerry Owen stands in front of a Ford F-100 pickup truck his wife bought him to replace the one he sold when he began his bee farm. Owen said when he retires, he and his dog are going to spend their days riding around in the truck.
Kerry Owen, owner of Bee Well Honey Farm and Supply, is this year's recipient of the award. Owen has been a beekeeper for about 17 years. He was nominated for the award by Lindsey Craig, area livestock and forage agent for the Clemson University Cooperative Extension Service.
"Kerry is the first beekeeper to be nominated for this award," Craig said. "This is new terrain in the South Carolina agricultural industry. It shows just how much agricultural diversity we have here in our small state. We are very proud of him."
There are about 2,500 beekeepers who manage about 30,000 bee colonies in South Carolina.
Bee Well Honey Farm is family-owned and operated by Owen and his wife, Donna. Their daughter, Britney Ward, and their son, Stetson Owen, work in the business as well. The Owens produce and distribute Bee Well Honey. The honey is produced by 1,500 to 2,000 colonies of bees.
Owen said raising honeybees has been a great career choice.
"I started doing this after I lost my job as a disc jockey," Kerry Owen said. "My father grew tomatoes and I grew up on my hands and knees in the tomato fields. I had been involved in farming for as long as I could remember. Farming was something I enjoyed and I knew it was something I could make a living at as long as I worked hard."
Owen grew up in North Carolina. He began his farming career raising rainbow trout, but found the water in Pickens was too warm for the fish. Strawberries were suggested as a possible crop. Owen said strawberries "…just weren't interesting enough." He set out to find something else to grow.
"That's when I called the Clemson Extension Office," Owen said. "Someone suggested honeybees. Shortly after, I did an internship with Dr. (Mike) Hood. I liked working with bees. I found it very interesting. Dr. Hood has retired, but we're still at it."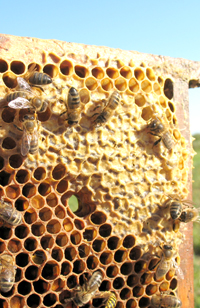 Owen said he greatly benefitted from information, including beekeeping fact sheets, provided by the Clemson Cooperative Extension Service.
When Owen first started raising honeybees, he needed buildings to work from. He bought green lumber to build his first barn. "I didn't know any better," he laughed. "I also bought a $600 table saw and put it on my credit card. We didn't have much money, so we had to do things a little at a time until we had what we needed."
Owen started selling honey from a stand he set up on his front lawn. No one worked in the stand. Jars of honey were set beside a money box.
"I put some honey in jars and sold it on the honor system," he said. "We never had any problem with people being dishonest. In fact, I often would get a note from someone saying, 'If your money's off, it's because we didn't have the correct change. Keep the change.' People liked our honey and we sold a lot from the stand."
The Owenses also sold butter, eggs and milk at their farm. Soon, the stand grew in to a business and Owen had to start learning about liability insurance, UPC codes and farm numbers.
"Garners Natural Market in Greenville became our very first customer in 2000, and they're still our customer," he said.
Owen's business focuses on streamlined production and distribution. They sell 100 percent raw wildflower honey to retail grocers, as well as out of their own store, Bee Well Honey and Bee Supply at 205 Hampton Ave., Pickens. They also sell online from their website at www.beewellhoneyfarm.com. Bee Well Honey also is sold in more than 400 stores in the Southeastern United States.
Owen raises his honeybees on 26 farms.
In addition to raising bees and running a store, Owen also offers educational boot camps for beginning and advanced beekeepers. He also plans to start a Honeybee College.
The Owenses have 12 employees who are well-versed in bee language and can answer questions customers may have related to the bee world. Charlotte Anderson, an employee who works at the store, is a Master Beekeeper. Anderson became the first female Master Beekeeper in 2012.
Customers who shop with Owen are loyal. Virgo Carrilho of Greer has been buying honey from the store for about three years.
"It's great honey at a reasonable price," Carrilho said. "I substitute honey for sugar because of the health benefits. The honey I buy here is exceptional, so I come here to buy my honey."
Tim Wells of Easley also travels to the Owens' store in Pickens for his honey fix.
"I put honey in my smoothies every morning and this is where I buy my honey," Wells said. "The honey is great. The people are great. I like coming here."
In addition to honey and other health products, the store also sells coffee. Jamie Floyd of Six Mile was making his first stop at the store to buy coffee for employees who work in the Pickens Bi-Lo Pharmacy.
"They won a contest and I wanted to reward them," Floyd said. "I asked them where was the best place to get coffee and they said 'Bee Well'. So, here I am."
Nancy Spivey of Sunset is a regular Bee Well coffee drinker. The Honey Latte is one of her favorite coffee drinks.
"I'm hooked (on their coffee)," Spivey said. "I come here at least once a week for coffee."
While raising bees seems exciting, Owen said he has found it takes a lot of work. A typical day begins with Owen drinking two cups of coffee between 5 and 6 a.m. Then it's off to the colonies where he works until dark — sometimes late in to the night.
"It takes a lot of work to raise bees," he said. "Bees need proper nutrition to keep their intestinal tracts healthy and they need protection from viruses and things like that. I have others who work with me, my son included, but I have found that to be successful, it takes a lot of work. I let other people help with processing and delivering the honey, but I am the only one I trust to take care of the bees. I am The Beekeeper."
Owen has let his son start moving the bees. Because bees are active during the day, they have to be moved at night.
"This is the first year I've let him do that and it's working out pretty good for me," Owen said. "He's becoming a great beekeeper."
Donna Owen recently retired from Pickens County government and started working full-time in the business. She is responsible for the business' accounting tasks.
"I love it," Donna Owen said. "I've learned a lot in the short time I've been here. I realize I've taken a lot of things for granted."
Having his whole family involved in the business has made Kerry Owen a "happy man." While not in his immediate plans, Owens knows the time will come when he will retire and hand over the business reigns to his children. And he's got plans.
"See that truck over there?," he said, pointing to a vintage black Ford F100 pickup truck. "I had one like it but sold it for $10,000 to start my business. I lost a fortune, but gained a business. A few years ago, my wife bought this truck and gave it to me. When I retire, my dog and I are going to spend our days riding around in that truck."
To keep up with Owen and his bees, visit beewellhoneyfarm.com, like the company on Facebook at BeeWellHoney, or follow on Twitter, @BeeWellHoney.
Swisher International, through its Swisher Sweets cigar brand, and the Sunbelt Expo are sponsoring the Southeastern Farmer of the Year awards for the 27th consecutive year.
Previous state winners from South Carolina include: Earl Thrailkill of Fort Lawn, 1990; Charles Snowden of Hemingway, 1991; Robert E. Connelly, Sr. of Ulmer, 1992; Henry Elliott, Sr. of Andrews, 1993; Ron Stephenson of Chester, 1994; Greg Hyman of Conway, 1995; Randy Lovett of Nichols, 1996; David Drew of Mullins, 1997; Jerry Edge of Conway, 1998; Blake McIntyre, III of Marion, 1999; Raymond Galloway of Darlington, 2000; W. R. Simpson of Manning, 2001; Gill Rogers of Hartsville, 2002; Harold Pitts of Newberry, 2003; Earl Thrailkill of Fort Lawn, 2004; Chalmers Carr of Ridge Spring, 2005; Steve Gamble of Sardinia, 2006; William Johnson of Conway, 2007; Kent Wannamaker of St. Matthews, 2008; Thomas DuRant of Gable, 2009; Marty Easler of Greeleyville, 2010; Kevin Elliott of Nichols, 2011; Monty Rast of Cameron, 2012; James Cooley of Chesnee, 2013; Walter Dantzler of Santee, 2014, and Tom Trantham of Pelzer, 2015.