Pickens Rec Report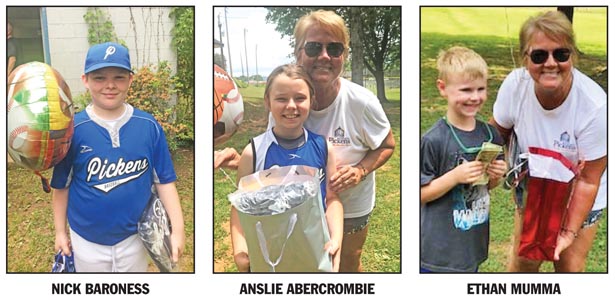 By Cheri Anthony
Pickens Recreation Director
canthony@pickenscity.com
PICKEN — Our Diamond Day celebration was a great success, although the weather did end our day's festivities a little earlier than planned. We want to thank all of our friends, relatives and visiting teams from Pendleton, Dacusville, Walhalla, Westminster and Central/Clemson who came to enjoy the day with us and supported this event.
During the noon festivities, our ninth annual PYAC Town Creek Speedy Ball Race was run. 524 colorful plastic balls raced down Town Creek in just less than eight minutes. We are immeasurably grateful to all the folks who sold and helped us with this fundraiser. The rec department was proud to award three sellers who went above and beyond. These participants were Nick Barone in first place, Ethan Mumma in second place and Anslie Abercrombie in third place. Winners of the Speedy Ball Race were as follows. First place and winner of the $150 cash prize was Ball No. 412, purchased by Ethan Mumma, second place and winner of a Ryobi portable electric pressure washer was Ball No. 24, purchased by Sadie Simmons, and third place and winner of a Ryobi cordless jet
You must be logged in to view this content.
Subscribe Today or Login